Diplomats are being instructed not to look Secretary of State Rex Tillerson in the eye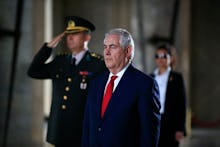 It is no secret that Secretary of State Rex Tillerson prefers to keep a low profile, but a new Washington Post story suggests the former Exxon Mobile CEO is doing everything he can to fly under the radar: Many career diplomats told the Post that they still haven't met Tillerson, and some have even been told to avoid making eye contact. 
Being told not to look your boss in the eye is an odd directive, and it quickly inspired a Twitter meme. 
Tillerson's appointment has been awkward from the start. President Donald Trump overruled him on his first pick for the State Department's number-two role, and the department itself has been targeted for steep cuts. Sources have told the Post that many are confused as to why Tillerson doesn't seem to be doing more to defend the agency he's supposed to lead. 
Some have even questioned whether Tillerson actually wants the job, a speculation that's gained steam ever since news reports revealed that he had to be urged to accept the post by his wife. 
Despite some controversy regarding Tillerson's ties to Russia — the oil executive has been granted Russia's Order of Friendship and knows Russian President Vladimir Putin — he had a relatively easy confirmation process, with four Democrats backing the appointment. 
Coincidentally, CNBC is now reporting that Trump has plans to meet with former Secretary of State Condoleezza Rice tomorrow morning. 
Wonder what they'll talk about.