Michael Flynn wants immunity. By his and Team Trump's standards, that equates to guilt.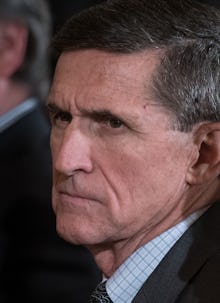 President Donald Trump's former national security adviser asked the FBI for immunity from prosecution in exchange for testifying in their investigation into the Trump campaign's possible ties to Russia. 
Trump praised Flynn in a Friday morning tweet for asking for immunity, saying the investigation is a witch hunt.
But both Trump and Flynn had a much different view on immunity when Democratic presidential nominee Hillary Clinton was under FBI investigation last year for her use of a private email server while she was secretary of state.
In fact, both Trump and Flynn said asking for immunity implied guilt.
"When you are given immunity, that means you probably committed a crime," Flynn, who was working as a campaign adviser to Trump, said on Meet the Press in September. Flynn was discussing the matter of five Clinton aides who received immunity during the FBI probe, which did not result in prosecution.
Trump made similar comments about how asking for immunity meant the party was guilty.
"The reason they get immunity is because they did something wrong, if they didn't do anything wrong, they don't think in terms of immunity," Trump said at a September campaign rally in Wisconsin, according to ABC News.
"If you are not guilty of a crime, what do you need immunity for?" Trump asked at a Florida rally the day before.
Other top Trump campaign aides also said asking for immunity implied criminal wrongdoing. Jason Miller, a Trump campaign communications aide at the time, said in a statement that the Clinton immunity deals proved "this was without a doubt a criminal scheme."
Flynn's offer to testify in exchange for immunity has so far been denied by both the FBI and the Congressional committees investigating the possible Trump-Russia ties, the Wall Street Journal reported.
FBI Director James Comey, in confirming an FBI investigation into the possible Trump-Russia ties, did not provide a timetable for when the investigation will be complete. 
"I can promise you we will follow the facts wherever they lead," Comey said at a March 20 hearing before the House Intelligence Committee.