Donald Trump just told Michael Flynn to take immunity — after telling Clinton not to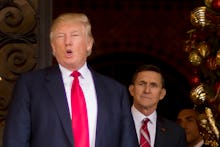 Former national security adviser Michael Flynn — forced to resign in February for not fully disclosing details on his communications with the Russian government — made headlines Thursday by telling Congressional officials and the Federal Bureau of Investigation that he would testify in exchange for immunity. Specifically, he would be interviewed by officials investigating the administration's ties to Russia during the elections.
Early Friday morning, President Donald Trump used Twitter to endorse this move: "Mike Flynn should ask for immunity in that this is a witch hunt (excuse for big election loss), by media and Dems, of historic proportion!"
Trump's message starkly contradicts another of his tweets from October, in which he derided then-opponent Democrat Hillary Clinton after one of her top aides was granted limited immunity in exchange for her testimony in an FBI investigation into Clinton's private email server.
His insistence that the Russia probe is in part driven by Democrats who are embittered by a historic landslide loss in the elections is also at odds with the facts: Trump lost the popular vote to Clinton by around 3 million.
Flynn's testimony could potentially be a useful addition to those officials investigating whether the Trump team colluded with Russia to interfere in the presidential elections; Russian relations have plagued the White House with a multitude of controversies since Trump took office. 
The Senate Intelligence Committee continued its investigation Thursday, questioning three hacking experts during a hearing. Flynn may well follow suit. 
"Gen. Flynn certainly has a story to tell, and he very much wants to tell it," his lawyer said in a statement Thursday.