6 things to know about Cynthia Lee Fontaine, the 14th queen on 'RuPaul's Drag Race'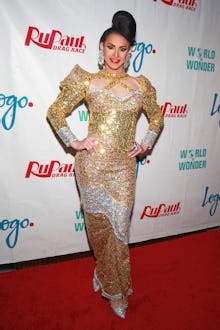 Mere seconds into the second episode of RuPaul's Drag Race's ninth season, the mystery teased at the end of the premiere — who is the 14th queen? — was resolved with a resounding cry of "cucu."
That's right: Cynthia Lee Fontaine, season eight competitor, cancer survivor and Puerto Rican queen, is returning to the competition for season nine. She'll have a second shot at the title after health problems plagued her first run. Unlike the other queens, however, she comes into the race with pre-existing knowledge of how Drag Race works. It's no wonder queens like Shea Couleé and Peppermint see her as a threat.
For those who aren't familiar with Fontaine, we've broken down six fast facts you need to know about her. Be prepared to read the word "cucu" a lot.
1. She was season eight's Miss Congeniality
Drag Race viewers crown a Miss Congeniality — a de facto fan favorite — through a popular vote every season. Usually, this title goes to someone who just misses the top three but is beloved by viewers, like Katya in season seven or Pandora Boxx in season two.
But Fontaine, who came in 10th place during season eight, became the Miss Congeniality who spent the least amount of time on the show. In just three episodes, Fontaine earned a passionate fanbase for her quirky charm and relentless positivity. Her "cucu" catchphrase didn't hurt, either.
2. She was diagnosed with liver cancer after season eight wrapped
The queen learned she had stage one liver cancer right after filming the show, and said she had experienced symptoms while participating in Drag Race. She's in remission now — and as seen on Friday's episode, host RuPaul is giving her another chance to compete, unencumbered by cancer symptoms.
3. During her recovery, she made friends with season eight's "villain" Acid Betty
Acid Betty, a New York City queen with an attitude, was depicted as something of a mean girl during season eight. But her dedication to helping Fontaine through her recovery tells a very different story.
"The first person that flew to see me was Acid Betty, and she was like, 'Bitch, I came here to take care of you,'" Fontaine recalled. "'You are safe with me because we are sisters.' She is just an extraordinary person ... the most honest and transparent I have met in my entire life. She's like my mother."
4. She's had two different YouTube series
You can watch both Cucu Confessions and Memoirs of My Cucu on her YouTube channel.
5. When not performing in drag, she works in the mental health field
During a 2016 Reddit AMA, Fontaine revealed she has a degree in clinical psychology and worked in the mental health field for more than seven years.
6. Yes, she talks a lot about her cucu
Fontaine's big schtick is her "cucu" — her butt, in other words. She often proudly declares how large it is and uses it as a huge part of her branding. (Her entrance line in both seasons was "How are you doing, mis amores? Do you wanna see my cucu?")
Whether or not it gets on your nerves is a good testament to how you'll feel about Fontaine. Yes, it can be grating. But her whirling dervish charm is not unlike that of Alyssa Edwards: relentlessly energetic, but with a ton of heart.
Mic has ongoing RuPaul's Drag Race coverage. Please follow our main RuPaul's Drag Race hub here.