'The Walking Dead' Finale: How to watch season 7, episode 16 online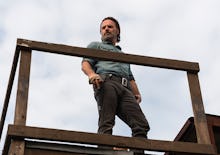 It hasn't always been easy to watch, but The Walking Dead is wrapping up season seven this Sunday with a finale that should begin the inevitable battle between the Saviors and Alexandria. We have our own wish list for the finale, but the show has a lot to get through before the battle begins. 
That includes the would-be allies of Alexandria at the Kingdom, who have decided to join Rick's group against the Saviors; it's just that Rick doesn't know this yet. All that and more should come in the finale, titled "The First Day of the Rest of Your Life," which has a enticingly vague plot synopsis. Per AMC: 
The stakes continue to grow higher as paths cross; the group enacts an intricate plan.
However, for Walking Dead fans who don't have TV access come Sunday, how can they watch the finale online? 
Sadly, it's difficult to watch the episode without a cable subscription that includes AMC. While AMC does have a next-day streaming partnership with Hulu, it doesn't include all of their shows, so The Walking Dead isn't among them. For non-cable fans of the show who want to watch the finale ASAP, your best bet is to purchase the individual episodes on iTunes, Amazon or Google Play the day after they air. 
If you have a cable subscription that has AMC, however, there's a much easier solution. The finale will be available on AMC's website to stream the day after it premieres. All that's needed is the proper cable login. 
While a lot can happen in "The First Day of the Rest of Your Life," I think we can all agree that this will be the last time we'll be seeing Sasha. When CBS comes calling about helming a new Star Trek series — like they did with actress Sonequa Martin-Green — you answer. 
The Walking Dead season seven finale premieres Sunday at 9 p.m. Eastern on AMC. Check out a sneak peek of the finale, featuring everyone's favorite CGI tiger Shiva, below:  
Mic has ongoing coverage of The Walking Dead. You can follow our main Walking Dead hub here.