What would "immunity" mean for Michael Flynn?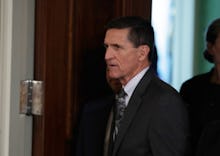 Gen. Michael Flynn, who resigned as national security adviser in February over a conversation about sanctions he'd had with a Russian ambassador, has reportedly said he will testify in the congressional investigation into President Donald Trump's potential Russian ties in exchange for immunity.
"Gen. Flynn certainly has a story to tell, and he very much wants to tell it, should the circumstances permit," Robert Kelner, Flynn's lawyer, said in a statement late Thursday. "No reasonable person, who has the benefit of advice from counsel, would submit to questioning in such a highly politicized, witch-hunt environment without assurances against unfair prosecution."
Kelner did not provide the terms Flynn is seeking for his testimony. 
But Jeremy Bash, chief of staff at the CIA and the Department of Defense under former President Barack Obama, told MSNBC on Thursday that full immunity is only granted in extraordinary instances when authorities "believe it's worth it" and that an immunity deal would have to involve the Department of Justice.
"And for the Justice Department to agree to give somebody like him immunity it means they want him to turn and testify against someone higher up in the food chain," Bash said. "Who is higher up in the food chain, higher than the national security adviser? 
"There's really only one person," Bash continued. "And so this shows that the jeopardy of criminal liability actually extends all the way to the top."
The DOJ has yet to comment on Flynn's potential immunity bargain, and those investigating the Trump campaign's ties to Russia won't make a deal until they have a sense of what information Flynn might be able to offer, according to the New York Times.
While the request has led some to believe Flynn's got a bombshell, experts told the Times not to "read anything into this request beyond smart lawyering," and Trump himself tweeted early Friday morning that Flynn should get immunity in exchange for his testimony.
Flynn, a retired three-star Army general, had claimed he had never discussed sanctions with Russian Ambassador Sergey Kislyak. But he resigned soon after for providing White House officials — including Vice President Mike Pence — "incomplete information regarding my phone calls with the Russian ambassador." 
Both Flynn and Trump, speaking in reference to an FBI investigation into Hillary Clinton's use of a private email server, have said requesting immunity implies guilt.
"When you are given immunity, that means you probably committed a crime," Flynn said in September.