Trump wants you to know he thinks women will make America great again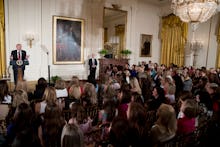 President Donald Trump tweeted out a truly touching video Thursday night about women reaching their "full potential."
The video features an excerpt from Trump's speech at Wednesday's Women's Empowerment Panel, accompanied by some inspiring music and cutaway shots to women mingling at the event.
"Only by enlisting the full potential of women in our society will we be truly able to — you have not heard this expression before — make America great again," the president said to a standing ovation.
Trump waxed poetic about women's "grit, courage and devotion," even referring to them as "titans." We want to believe him, but maybe we should take a look at his track record on women first:
"I don't want to sound like a chauvinist, but when I come home at night and dinner's not ready I go through the roof."
In a 1994 interview on ABC's Primetime Live, Trump spoke out about his marital difficulties with ex-wives Ivana Trump and Marla Maples, ostensibly revealing what led to the dissolution of his marriages to them. That Ivana didn't have dinner ready for him after work was among them. 
"Putting your wife to work is a very dangerous thing." 
In the same interview, Trump said that while he had wanted to relax after work, Ivana would want to talk about Trump's Castle, the Atlantic City casino of which she was the CEO. 
"Ivana had a great softness that disappeared," Trump added. "She became an executive, not a wife."
"Nice tits, no brains."
Trump said this of ex-wife Maples during an interview on The Howard Stern Show, according to a BuzzFeed News review of the show's audio from the late '90s and early '00s.
"A person who is very flat-chested is very hard to be a 10." 
The same review unearthed this quote, from a segment on Stern's show where Trump rated women on a scale of 1 to 10. 
"Grab them by the pussy — you can do anything." 
If anything reveals what Trump truly thinks of women, it just might be Trump's infamous hot mic comments the Washington Post published in October. Of course, Trump has not just bragged about sexually assaulting women but has allegedly done it, with at least a dozen women claiming Trump made unwanted sexual advances toward them. It's not exactly easy to reach your "full potential" if you're dealing with sexual abuse.
Oh — and there are all of these, too. Decide for yourself which video on Trump and women rings the truest.