After getting shamed on Instagram for her body hair, this teen expertly clapped back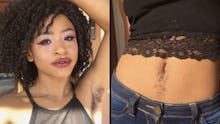 If you scroll through 17-year-old college student and illustrator Lalonie Davis' Instagram account right now, you'll see a series of cute mirror selfies, makeup shots, pictures of Davis looking carefree while frolicking through gardens with flowers in her hair and status quo group shots with friends. 
When Davis posted a selfie proudly showing off her body hair last week on Instagram and Twitter, plenty of people had something to say. 
On Twitter, she posted a picture of her armpits and her stomach. "Body hair positivity post because I'd never let misogynistic opinions dictate what I do with my body," she wrote. 
On Instagram, she echoed that sentiment. 
"A body hair positivity post to remind you all that what I do with my body is MY choice," Davis wrote on Instagram. "You don't have to like it, but please know that misogynistic opinions that shame girls for having body hair while ignoring boys who do will never get me to change who I am." 
"Baby girls don't ever let anyone ever make you feel bad for being who you are or doing what you want to do," Davis continued. "You are deserving of self-respect and love no matter the decisions you make with your body. Body hair is normal and so are you. It's okay to do what you want to do with your body. I love you guys." 
Innocent enough, yeah? Just a woman standing up for her right to do whatever she wants with her body hair — and body. 
Though apparently, it actually was offensive to some — but Davis isn't backing down. Later that day, Davis posted another picture on Instagram and Twitter, this time a collage of all the mean tweets that had gone out since she posted her selfie.
"Y'all think body hair on girls is gross, I think misogyny is grosser," Davis wrote on Instagram. "Why can't I do what I want to do w MY body w/o being told to kill myself? Within one hour of posting a picture of my body hair on twitter, I received over 200 negative quotes tweets. I had to turn my notifications off be a use my phone kept freezing. This just goes to show so much about our culture, why do y'all hate carefree woman so much?" 
Days later, she reposted a video internet personality Prince Don had made that poked fun and judged women like Davis, even using Davis' picture. 
"I AM SO FLATTERED THAT THIS BOY TOOK TIME OUT OF HIS DAY TO MAKE THIS WHOLE ASS VIDEO EDIT TO DEMEAN WOMEN!!!!" Davis exclaimed in the caption. "P.S. WHY IS THE INTERNET SO OBSESSED WITH IMAGINING WHAT MY VAGINA MIGHT LOOK LIKE?" 
Although it may feel like everyone is against Davis and her own right to wear her body hair as she pleases, there's also been an outpouring of support for her in light of this hate. 
"I think it's really sad that girls are taught from a young age that we need to maintain a certain image in order to be labelled as 'feminine' or even 'normal' in today's standards," one commenter wrote. "Real women have hair and real women aren't ashamed of it. Keep doin' you, there's always somebody out there who won't agree with your personal opinions or style." 
"I mostly see girls with little blonde hairs saying they're not gonna shave anymore and gonna be themselves and whatever, which is awesome but I'm like, you can hardly see that sh*t anyway!" another wrote. "But finally I've seen someone with dark hair that is more prominent and I relate so much more to you having thick dark hair on your body."
Clearly, Davis has her supporters. In not wanting to shave all of her body hair, Davis joins women around the world who are talking about the choices they have when it comes to body hair, like Emma Watson, who recently revealed that she doesn't remove all of her pubic hair, and Adele, who literally said "I'll have no man telling me to shave my fuckin' legs. Shave yours." 
That's a pretty good motto to live by, isn't it?