Saipan Casino: Why the FBI is investigating this remote island casino with ties to Trump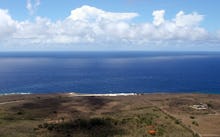 It's not yet clear why the FBI searched the Saipan office of Imperial Pacific International Holdings Ltd. on Thursday morning. But according to one local media outlet, the Financial Times reports, the casino operator with ties to President Donald Trump is possibly being investigated in connection with a construction worker's accidental death. 
FBI agents and local law enforcement visited the Imperial Pacific office on the remote U.S. island of Saipan in the western Pacific Ocean in what a local official described as an "investigation or raid."
The Hong Kong-based company denied being investigated in a statement, writing that "neither the Group nor any of its staff has received any investigation notice from any of the U.S. Federal Bureau of Investigation or government departments."
An FBI spokesperson told Bloomberg on Thursday that the bureau is "not in a position to comment at this time."
Shares in the company traded 5.6% lower following the reports, and at one point dipped 17%.
Mark Brown, a former executive at Trump Hotels and Casino Resorts, serves as chairman of Imperial Pacific. Former CIA director James Woolsey, who advised the Trump campaign on national security matters, sits on the company's board.
Former FBI Director Louis Freeh, former Democratic National Committee Chairman and Pennsylvania Gov. Ed Rendell and former Mississippi Gov. Haley Barbour, who helmed the Republican National Committee, are members of the company's advisory panel.
In 2015, Imperial Pacific opened Best Sunshine Live casino in Saipan, which relaxed its casino laws the year before. 
Best Sunshine Live has been the subject of a number of lawsuits since opening — including one from a former executive accusing Imperial Pacific of money laundering — and has drawn the attention of the U.S. Treasury for suspicious cash flows.