'Diablo 3' Season 10 Start Time: PS4, PC, and Xbox One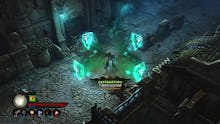 As if you didn't have enough on your gaming plate with finishing Breath of the Wild and Mass Effect: Andromeda, Diablo 3 is finally starting season 10 on Friday, March 31, with an update that's filled with plenty of awesome new rewards. In addition, console players will also be able to join in for the first time.
If you're wondering when to start, here's a breakdown of the Diablo 3 season 10 start times by region.
Diablo 3 season 10 start times 
According to Blizzard, the starting times will depend on your region — not just your time zone. 
If you're in Asia, the season will start at 5:00 PM KST. If you're in Europe, it will be 5:00 PM CEST. Finally, if you're in North America, it'll be 5:00 PM PDT — so 8:00 PM for all you East Coasters. 
More gaming news and updates
Check out the latest from Mic, including our deep dive into how female Overwatch players are dealing with online harassment, an article about a fan movement advocating for more same-sex romance options in Mass Effect, a cool making-of video for Legend of Zelda: Breath of the Wild and an article about what a Bechdel test for gaming might look like.