UConn women's basketball coach on lack of female coaches: Women just don't want to coach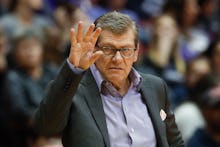 Geno Auriemma coaches one of the most successful teams in women's college basketball history: the University of Connecticut Huskies, who are currently in the midst of a 111-game winning streak. But the skill with which he's guided his female players to greatness seems not to have crossed over to respect for his female colleagues. 
On Thursday, USA Today asked Auriemma about the shrinking number of female coaches heading up NCAA women's basketball programs today.
"There's a reason why there's not as many opportunities for women," Auriemma replied. "Not as many women want to coach. It's quite simple."
It's unclear how Auriemma came to know the precise professional ambitions fueling all of the women in his field. But the numbers have indeed been discouraging: According to the NCAA's race and gender database — as reported by USA Today — 56% of women's Division I teams had female head coaches in the 2015-16 season, down from 63% roughly a decade earlier in 2007-08.
It's not totally clear why this is happening. But Auriemma's hypothesis reeks of the same lazy logic leveled against countless women and minorities who find themselves underrepresented in professional fields dominated by white men: They simply don't want it badly enough.
Predictably, actual women disagree with Auriemma's assessment. 
"Women aren't recycled the way that men are," Stanford women's head coach Tara VanDerveer told USA Today, referring to the perception that women are rarely rehired at new schools after losing coaching gigs, whereas men seemingly jump from school to school with ease.
Auriemma's daughter, Ally, went on Twitter later Thursday evening to address her dad's remarks.
"DAD. WALK IT BACK," she tweeted. "I'm pretty sure what dad was trying to say, in a limited, male perspective, is that a lot of avenues are open to women now that weren't.
"Dad literally told me I could be ANYTHING I wanted to be and anyone who takes his comments as anti-woman needs to have ALL THE SEATS," she added. "That being said he is speaking from an obvious limited perspective as a white cisgendered man so I am head-desking hard."