Kendrick Lamar "Humble" Lyrics: A breakdown of the possible Big Sean diss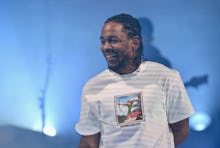 Kendrick Lamar put the internet into a frenzy again Thursday night with the surprise release of his new music video, "Humble." There are lyrics on the Mike Will Made It-produced song that many fans are speculating take aim at rapper Big Sean. Watch the striking new visual, in which Kendrick likens himself to the hip-hop Pope, below:
The Compton emcee does not speak Big Sean's name in the song. But Lamar is believed to be mocking Sean when he chants "Hol' up lil' bitch, hol' up lil' bitch/ Be humble" throughout the "Humble" chorus. "Hol up" is a go-to ad-lib in Big Sean's music. 
In another combative verse, Lamar raps: "My left stroke just went viral/ Right stroke put lil' baby in a spiral." 
"The Heart Part 4" could be Lamar's left stroke. The song, which was released March 23, created a buzz. "Humble" could be the right stroke that Lamar is now taking at his opponent.  
Speculation surrounding a growing beef between Big Sean and Lamar began after the release of "The Heart Part 4." A Genius contributor highlighted lyrics with Lamar possibly dissing Sean:
My fans can't wait for me to son ya punk-ass
Lamar is definitely calling out someone he knows for sending him subliminal messages, although in these lines K-Dot is tip-toeing around names himself. 
One fan believes that their rift began when Sean rapped these lyrics on his song "No More Interviews," released in October.
And I'm just not impressed by you niggas rapping fast
There is reason to believe Sean's lyrics are about Kendrick Lamar here. For one, Lamar is known for having a fast-paced rap delivery style. Additionally, his impact on hip-hop has put him at the center of hip-hop savior conversations, a sentiment discussed in the New York Times and Mass Appeal.
Some fans are tweeting that the possibility of a feud between the two hip-hop stars is too much to handle, so they have decided to keep their fandom neutral. 
Lamar has not revealed the title of his forthcoming project, but it is expected soon. On "The Heart Part 4" Lamar makes a reference to its release date. "Y'all got 'til April the 7th to get y'all shit together," he raps. 
The wait continues for the follow up of To Pimp a Butterfly. 
Mic has ongoing coverage of Kendrick Lamar. Please follow our main Kendrick Lamar hub here.