What Donald Trump's Twitter war on House conservatives means for compromise in Washington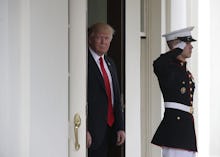 Since 2010, conservatives have been a thorn in the side of whoever ran the House of Representatives. Speaker John Boehner constantly struggled to build a consensus or cut deals with President Barack Obama, simply because the most conservative Republicans would not compromise. Now, after the defeat of the American Health Care Act, President Donald Trump has signaled he expects the House Freedom Caucus to fall in line, or else. He is, after all, the president — "and you're not." 
At the beginning of this week, I caught Freedom Caucus Vice Chairman Jim Jordan (R-Ohio) on his way back from a meeting in the Senate. He wouldn't answer questions about what was next for his group of conservatives, only saying, "I don't worry about any[thing] perceived or not perceived. ... All I worry about is doing what we said we would do." That was before the president called out Jordan and two other Freedom Caucus leaders on Twitter, using his platform to guarantee millions of people could see the attack.
On Thursday, Jordan remained cordial on Fox News. "We appreciate the president ... but the fact is you've got to look at the legislation, and it doesn't do what we told the voters we were going to do," he said. (CBS News) Other conservatives were less conciliatory. "He's burning political capital with every tweet that attacks the guys that came to Washington, D.C., to drain the swamp," Rep. Thomas Massie (R-K.Y.) said. (Washington Times)
But breaking with the Freedom Caucus, whose members hail from some of America's most conservative districts, means Trump will need to work with Democrats, a tactic that has been nonexistent in Washington on high-profile legislation for more than eight years. That plan is not something House Speaker Paul Ryan wants to happen (that drew an angry response from the Senate), and Jordan is no fan of bipartisanship either. It would mean the next attempt at health care reform would have to be far more moderate than the first GOP plan that drew very little support outside the House Republican caucus. 
Here's the question: With Trump apparently threatening primary challenges against Freedom Caucus leaders, how will voters in these conservative districts respond? Freedom Caucus members have roots in the Tea Party, which had success running candidates in Republican primaries to the right of a sitting House Republican. That strategy pulled the House to the right and makes it difficult to believe running more moderate Republicans in these districts would be successful.
But Trump is a wildcard. Voters in Freedom Caucus districts voted for Trump by wide margins. The president won nearly all the counties in Jordan's rural Ohio district by at least 10 percentage points — and as much as over 60. For a president who ran on very conservative principals, targeting the Freedom Caucus and considering working with Democrats would be a stark reversal.
We will see how negotiations — and attacks — unfold over the next week before Congress takes a two-week break.
This is Mic's daily read on Donald Trump's America. Welcome to the political newsletter that loves early morning tweeting. 
Highlights:
•  Today: The president is attacking conservatives whose voters delivered him some of his largest margins of victory. 
•  More: Michael Flynn will testify about Russia if he is granted immunity.
•  Even more: One Russia investigation broke new ground Thursday, as another continues to collapse.
•  Trump's agenda today: Rolling out executive orders on trade, targeting foreign manufacturers that sell goods at cheaper prices than American competitors. Meeting with the director of the National Institutes of Health. Meeting with the director of the Office of Management and Budget.
Michael Flynn said last year asking for immunity meant you probably did something wrong — and then asked for immunity
Former National Security Adviser Michael Flynn has told the FBI and Congress he is willing to be interviewed by investigators looking into potential Trump campaign-Russia ties in exchange for immunity. What exactly Flynn would testify about is unclear, as is whether immunity will be granted. Flynn spoke with the Russian ambassador to the U.S., then misled Vice President Mike Pence regarding a call. After intense pressure, Flynn resigned. Investigators could be interested in Flynn's sources of income tied to Russia.
For his part, Flynn has been critical of those who ask for immunity, suggesting the request implies guilt. In September, Flynn made this clear during a Meet the Press appearance when speaking on the issue of five Hillary Clinton aides who were given immunity to discuss the FBI probe.
"When you are given immunity, that means you probably committed a crime," he said at the time. Hmm.
The Russia investigation(s)
The Senate Intelligence Committee dove into the highly skilled and coordinated techniques Russia used to manipulate news and information before the 2016 election. One analyst told senators it is difficult to tell fact from fiction when the president amplifies fake news stories that originated from Russian propaganda. Republicans and Democrats alike sounded alarms about the scale of Russian cyberattacks and the need to conduct a vigilant, bipartisan investigation. Read my three takeaways from the hearing.
Meanwhile, White House officials reportedly supplied House Intelligence Committee Chairman Devin Nunes with intelligence on Trump surveillance. The embattled congressman, who Democrats want to resign or recuse himself from any investigation linked to the White House, reportedly worked with two White House officials to get intelligence on whether Trump may have been surveilled during the election. 
To save face, the White House has invited the heads of the Senate and House intelligence committees to review information related to Russia inquiries. 
Mike Pence broke a tie in the Senate to partially defund Planned Parenthood
The Senate voted Thursday to allow states to deny federal funding to Planned Parenthood clinics that conduct abortions, rolling back an Obama-era rule. The House had already voted to kill the rule. The legislation now heads to Trump's desk. Two Republican senators, both women, voted against the rule change, requiring Pence to break another tie in the Senate. Pence was on-hand to confirm Secretary of Education Betsy DeVos after two Republicans did not support her confirmation.
News and insight you cannot miss: 
•  The president let go his deputy chief of staff, raising questions about an upcoming reshuffling of White House staffers after the health care failure. (Politico)
•  Time asks experts what must be done to rebuild and repair America's infrastructure. (Time)
•  Secretary of State Rex Tillerson is "isolated" from his staff, spending hours reading memos alone and apparently avoiding staff who used to interact regularly with America's top diplomat. (Washington Post) 
•  33 of the 41 Democratic senators necessary to filibuster Trump Supreme Court nominee Neil Gorsuch have said they will oppose the judge. (New York Times) On Thursday, Sens. Joe Manchin (D-W.V.) and Heidi Heitkamp (D-N.D.) became the first Democrats to say they would support Gorsuch. (Mic) Both senators are up for reelection in 2018 in states Trump won.
•  A new survey raises questions about whether millennial activism will transfer into votes. (Mic)
•  A great read from Mic's Jack Smith IV: In Trump's America, liberals are finally reaching for their guns. (Mic)
•  35 mosques have been attacked in 2017. The president has been silent about these acts of violence. (Mic)
•  The Republican senator Democrats hope to remove in 2018: Ted Cruz of Texas. A tall order, indeed. (Politico)
•  Do you have student loans the federal government said they will forgive? Not so fast, says a new federal department of education directive. (New York Times)