'Destiny 2' Nintendo Switch Release Date: Could it happen?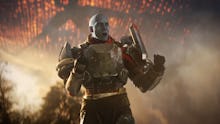 With Destiny 2 officially real and true, everyone is asking the same question that's been asked about every big new game in 2017: Could this one come to Nintendo Switch?
Destiny 2 for Nintendo Switch is pretty unlikely
Since Bungie and Activision have yet to say anything on the matter, the only thing we can really do is speculate. It's been complete radio silence from the people who make Destiny happen, so infer from that what you will.
There are a few problems potentially keeping Destiny 2 away from Switch. The first is pretty obvious: The console probably isn't powerful enough. The Xbox One and PlayStation 4 are still significantly more powerful than Switch, which is impressive for a handheld but fairly pedestrian for a home console. Since Destiny 2 is leaving the Xbox 360 and PS3 behind — unlike the first game — we can assume it will take advantage of the increased horsepower in a way the Switch likely can't handle. 
Another potential hurdle is the handheld nature of the Switch itself. Destiny is unplayable without a constant internet connection, which is obviously problematic for a console that won't always be near a Wi-Fi hotspot. As a Switch owner, I'd be less likely to buy a game I can't reliably play away from home.
Finally, Activision is a giant publisher that hasn't historically supported Nintendo consoles with its biggest franchises. Call of Duty: Ghosts was the second — and last — game in the series to come out on Wii U, and there's been no indication Activision plans to bring that series to Switch yet. Skylanders Imaginators is coming to Switch, but that's been the only sure bet on Nintendo consoles from Activision for a while. If Activision thinks the money is there, it may find a way to make it work, but it's too early to tell right now.
While it's fun to dream about a game like Destiny 2 coming to Switch, I wouldn't hold out too much hope. Who needs it when you have Splatoon 2, anyway?
More gaming news and updates
Check out the latest from Mic, including our deep dive into how female Overwatch players are dealing with online harassment, an article about a fan movement advocating for more same-sex romance options in Mass Effect, a cool making-of video for Legend of Zelda: Breath of the Wild and an article about what a Bechdel test for gaming might look like.