11 default iPhone apps you can replace with much better ones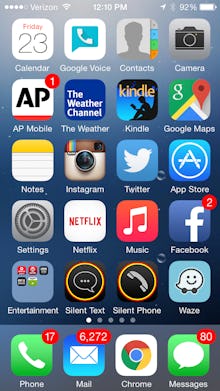 Delete Maps, Mail and Safari and never look back — there are much better versions of the default apps you get when you first get a new iPhone.
You won't regret it. Trust us. The alternatives are game-changers. They're light-years ahead. And most, if not all, are free — or cheap.
Previously, you were forced to keep the built-in iPhone apps on your device even if they never wanted to use them — or exile them to a separate folder stored on the very last page of your handset. But, as of iOS 10, you can now remove most built-in apps from the home screen entirely. 
These apps include: Calculator, Calendar, Compass, Contacts, FaceTime, Find My Friends, Home, iBooks, iCloud Drive, iTunes Store, Mail, Maps, Music, News, Notes, Podcasts, Reminders, Stocks, Tips, Videos or TV, Voice Memos, Watch and Weather.
Chances are, you're going to run out of space on your phone at some point. The list above is where to start cleaning house and freeing up some room. Start by figuring out which apps you're never going to use — like Stocks, for instance. The second step is checking out if third-party apps offer a better product than a default app. Below are 11 built-in apps that you can swap out for better ones. 
Out: Maps
Apple has made improvements to its Maps app, but many iPhone users opt for Google Maps. Google Maps offers step-by-step directions for driving, walking and public transport. It also offers an offline feature that lets users downloaded directions in advance when they're in areas where the internet is slow, expensive or unavailable.
For those who drive on the regular, or have a habit of giving their cab drivers directions, Waze is a great app that offers GPS services with real-time traffic updates and road information. The information is crowdsourced from other users so drivers can get live alerts on things like accidents, hazards, police presence and road closures.
In 2016, CNBC tested out Apple Maps against Google Maps and Waze. It decided Google Maps was the superior app, followed by Waze.
Out: Mail
To truly organize your digital correspondence, opt for Outlook or Inbox. The former offers a "focused" inbox that organizes your email based on importance — and, judging from reviews and a quick office survey, it works well. Inbox, a Gmail alternative by Google, looks sleek and friendly and brings similar messages together in convenient clusters like "purchases" and "finance." 
Out: Camera
You can take those Instagram-worthy pictures on your device's camera, or you can take your photography to the next level with Camera+. This free photography app uses your phone's features to help take better pictures. Case in point: The app improves photo quality by using the iPhone's flashlight. It also lets you customize exposure and focus independently and has a stabilizer feature that captures sharp images.
Out: Safari
Google Chrome is the most popular web browser in the United States, claiming 44.5% of the market. While the Safari browser is default for your iPhone, it doesn't mean you can't use Chrome on your handset. You can't delete the Safari app from your device, but you can always download Google Chrome. Or, for those who are concerned about privacy, DuckDuckGo is an internet browser that will neither collect your personal information nor share it.
Out: Messages
It's probably difficult to be completely eliminate the use of the Messages app from your phone, but there are other messaging apps that make communication easier. Both WhatsApp and Signal offer end-to-end encryption — this means nobody can access your private conversations, not even the messaging platforms. WhatsApp, in particular, has over 1 billion active users around the globe making individual and group chatting seamless across geographic borders and different models of smartphones.
Out: Weather
There's nothing simple about weather and for an app that gives you all the details, get the free AccuWeather app. Not only can users get the basics like temperature and rain forecast, but this app also provides an in-depth, hyperlocalized preview with information like wind speeds by the hour. And if you're willing to spend $3.99, the Dark Sky app will ensure you're never caught unprepared in the rain again. The app tracks atmospheric pressure to give you precipitation alerts about when it'll rain and how much downpour you can expect.
Out: Reminders
The Reminders app is functional but has its limitations. Developers have created other high-quality apps that take personal productivity to another level. Like Any.do: a free app that lets users manage their to-do lists while allowing them to collaborate with others. Users can create time and location reminders and shared tasks. Each "to-do" item can be categorized, have a custom reminder and be shared with a fellow user. Another popular alternative is Wunderlist.
Out: Calendar
If you are one of the billion-plus Gmail users, then the Google Calendar app is a far more functional alternative to the default Calendar app on your iPhone. The free app synchronizes with your email so you can really put an event in your calendar with all the details: contacts, locations, date and time. For a detailed look at the days to come, it's hard to beat Google. But, if you want a calendar app that gives you a general overview of your life that has the option to dive into the day-to-day, then Fantastical 2 is a cult-favorite app. Just know it'll cost you $4.99.
Out: Keyboard
If you want a keyboard that has more functionalities, then Gboard is a must-have. Launched by Google in May, Google's keyboard boasts built-in search — copy and paste information from the search engine without leaving your Messages app — and the much faster and superior glide typing, where you swipe over the word you want rather than pecking at letters.
Out: Stocks
For the financially illiterate, the Stocks app is overwhelming. And for the financially savvy, the Stocks app is elementary. Novices should start monitoring their finances with an app like Mint, which allows you to monitor your money by bringing together your bank account, credit cards, bills and investments in one area. And those looking to get into the stock market should consider Robinhood, a free app that lets users buy and sell stocks for no cost. The best part is your personal information is fully encrypted.
Out: Health
To make real progress in adopting a healthier lifestyle, Fitbit covers all areas. Not only does the app let you log your daily dietary intake, but it also tracks your activity, workouts and sleep. Even those who don't own a Fitbit tracker can benefit from the free app's features.