Conservative author invokes panic with $1K reward for videos of Muslim students praying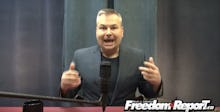 Kevin J. Johnston of the Freedom Report, a right-wing news site based in Canada, is now offering a $1,000 reward for footage of Muslim students engaging in "hate speech during Friday prayers."
Johnston, an author and editor, uploaded a three-minute video to YouTube announcing the prize on Wednesday and is specifically looking for footage from Ontario's Peel School District. Johnston has targeted the Peel School District because he believes Friday sermons at Peel schools are given in Arabic and include hate speech. 
"We pay taxes to have our school turned into madrassas and mosques," Johnston says in the video, promising viewers the reward "if you get us the evidence we need to put these kids, the imams, [Peel School Board Chair] Janet McDougald in jail for hate speech and inciting hatred in our public schools, which are supposed to be centers of education and free thought, not mosques."
In order to receive the $1,000 cash prize, Johnston says the footage must identify the student, have their face visible and be submitted within 24 hours of it being filmed. Johnston also says that he would allow the winner to wear a mask upon receiving the award. He also suggests applicants use hidden cameras to obtain such footage, a clear infringement on the right to privacy. 
"Whatever it takes, get that to me," Johnston says. "I am offering $1,000 of my own money, cash reward, for any of you out there that can sneak a camera into one of these mosque-eterias or mosque stages or mosque gymnasiums and get me the footage." 
For about two decades, Muslim students have practiced their Friday, or Jummah, prayers inside Peel schools. But controversy began when the school board reviewed whether or not students should choose from six sermons prewritten for them or if they could write their own. 
In early January, the board slightly changed to the current prayer policy: Students can still write their own sermons, but they must have a staff member supervising the religious service. Contrary to Johnston's claim, Peel students deliver their own sermons in English. The only exception is when verses from the Qu'ran, which is written in Arabic, are recited. 
But then on March 23, anti-Muslim activists and parents disrupted a school board meeting with shouts of Islamophobic epithets, hoping to pressure the school board into ending religious accommodation for Muslim students. One man at the meeting ripped up the Qu'ran and another walked all over the pages that fell on the floor. Vice Canada reporter Tamara Khandaker posted a video on Twitter of the raucous meeting.
Johnston has often used language targeting people's race, religion or nationality. The anti-Muslim activist has made headlines in the past for leading a campaign to prevent the construction of a mosque in Mississauga, Ontario. Johnston did not respond to Mic's request for comment.
Johnston's tweet below refers to Canadian Prime Minister Justin Trudeau as a "jihadi" for being pictured sitting between parliament members Iqra Khalid and Omar Alghabra. Khalid and Alghabra, whom Johnston referred to as "terrorists," are both Muslim.
The Peel School District issued a memo in response to Johnston's video encouraging faculty, students and the community to be "extra vigilant" when overseeing prayer services in their schools, CBC reported.
"It is important that you make staff who supervise Friday prayer at your school aware of this challenge and ask them to be extra vigilant in their supervision and that this invasion of privacy is not appropriate," Brian Woodland, director of communications at Peel School District, wrote in the memo.
According to CBC, the Peel Regional Police said its diversity unit will be looking into Johnston's video contest. It said that it's too early to say if it the video has broken any laws yet.
While the video contest is targeting Peel District Schools, high school and college students across Canada are expressing fears over the heightened anti-Muslim sentiment in their country.
Haneen Alhassoun, a 20-year-old Carleton University student, said she's been to many Friday sermons in Canada and she's never heard anything anti-Semitic, anti-women or similar to what Johnston alleges.
"I think people who don't understand the religion make the assumptions that we're inherently anti-Semitic," Alhassoun said in an email interview. "It's not something new."
Noorulabdeen Ahmad, 18, a journalism student at Carleton University, said in an email interview that his first thought upon hearing about Johnston's video contest was if Muslim students would resist by creating fake footage of themselves to cash in on the $1,000. 
"I don't think that I'd carry through with it," Ahmed said. "But definitely some may try."
Ahmed said "witch hunts" on Muslims, like Johnston's video contest in Canada, is not out of the ordinary. His biggest fear, however, is young Muslims will feel pressured to hide their identities and reject their faith to avoid being targeted altogether. 
"This is a witch hunt on Muslims," Ahmad said. "This is going to impact younger Muslims. It will make them question themselves and their faith without ever knowing why they are being specifically targeted."
Unfortunately, that's already happening.