When does 'Overwatch' season 4 end? Here's what we know so far.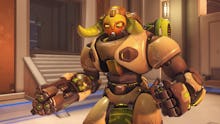 Now that Overwatch's newest hero, Orisa, is finally available for use in season four of competitive play, you're probably wondering just how much longer this season will last. Blizzard has yet to announce an exact end date for season four, but previous seasons give us a pretty good idea of what to expect.
When does Overwatch season 4 end?
Most Overwatch competitive seasons last about 11 weeks or so. For example, season three started on Dec. 1, 2016 and ended Feb. 21, 2017. 
Since season four began Feb. 28, it's likely Overwatch season four will end in the second half of May, probably on or near May 16. When Blizzard announces an official end date, we'll let you know.
Blizzard made some big changes to the skill rating decay system for season four, as well as changes in the high and low ends of the skill rating spectrum. Make sure you're up to date on all those changes here.
More Overwatch news and updates
For more on Overwatch, check out the rest of what Mic has to offer. Here is a a look at a very funny but naughty meme on the Overwatch subreddit, an interview with the creator of an awesome new Overwatch zine, a full explanation of the different types of health in Overwatch, our definitive ranking of every Overwatch hero, a roundup of awesome gender-bent Overwatch cosplay and a giant Overwatch FAQ for beginners.