Russia Protests: Here's what's behind the latest anti-Kremlin demonstrations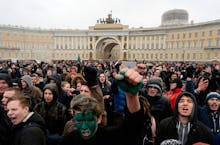 Tens of thousands of anti-Kremlin activists took part Sunday in massive demonstrations against government corruption across Russia in the largest protest the country has seen in at least five years.
On Thursday, during his first remarks on Sunday's demonstrations, Russian President Vladimir Putin said that he was "against corruption," but drew comparisons to the Arab Spring and the 2014 Ukrainian revolution to warn that the protests could result in "chaos," the New York Times reported.
"We know very well what this led to, to what bloody events it led to in this region," Putin said during a forum on Arctic issues Thursday. "We also know well into what chaos these events sunk our neighbor, Ukraine."
President Donald Trump was silent Sunday as hundreds of people  — including Russian opposition leader Alexei Navalny — were arrested in connection with the protest. But acting State Department spokesperson Mark Toner said that the U.S. government "strongly condemns the detention of hundreds of peaceful protesters throughout Russia on Sunday."
On Friday, Russian officials blocked social media pages that were organizing more anti-Kremlin protests.
What's behind the Russian protests?
The protests Sunday were part of a campaign called "He is not your Dimon," a reference to Prime Minister Dmitry Medvedev, according to CNN.
Navalny, the opposition leader who organized the protest, accused Medvedev of amassing "huge pieces of land in the most sought-after regions, yachts, apartments in old mansions, agricultural complexes and wineries in Russia and abroad" through "bribes from oligarchs and state bank loans" — accusations a spokesperson for the prime minister has dismissed as "propagandistic outbursts."
The protests also come ahead of the country's 2018 election, which will likely result in Putin winning a fourth term, the New York Times reports.
Navalny — who has been convicted on what are widely seen as politically motivated embezzlement charges — said he will challenge Putin. 
Navalny was among those arrested in the protests and is serving a 15-day sentence for resisting police. 
The European Union has called for the release of detained demonstrators. Putin has refused, describing the West's response to the arrests as "politicized."
"We consider such calls on Russia as purely politicized, with the aim of exerting pressure on the country's internal political life," Putin said Thursday.