Latina actress Lindsey Morgan rumored to star in Joss Whedon's upcoming 'Batgirl' film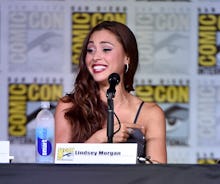 Fresh off the news that Avengers director Joss Whedon is finalizing a deal with Warner Bros. to write, direct and produce a standalone Batgirl film, iO9 has built a pretty convincing case why Lindsey Morgan — the half-Mexican, half-Irish star of CW's The 100 — is being cast in the title role.
On March 17, two weeks before Variety reported the Whedon news, the 27-year-old Morgan tweeted about a new project she had in the works:
Since Thursday's news, Morgan has retweeted multiple stories about Batgirl, including two concerning rumors that she could be cast in the leading role:
This is all speculation at this point, as Morgan could simply be campaigning for the job or teasing her fans. But the casting of a Latina actress could go a long way toward assuaging critics who have bemoaned Hollywood's lack of racial diversity of late.
In the world of comic-book adaptations, this tension came to a head most recently with Marvel's Iron Fist, the Netflix series starring white actor Finn Jones. Due to the overwhelming debt Iron Fist owes to martial arts cinema, many fans were upset an Asian or Asian-American actor wasn't cast as Danny Rand. Lewis Tan was reportedly in talks for the job, until he was cast as a villain instead.
Batgirl will tell the story of Barbara Gordon, the daughter of Gotham City Police Commissioner James Gordon, a key Batman ally. Barbara eventually assumes the mantle of masked vigilante herself and joins Batman in fighting crime. Whedon's project would be the first time she appears onscreen in a solo film.