'League of Legends' Store Error: What to do with a blank or black screen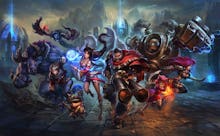 If you're a League of Legends player, you might have noticed some issues with the store recently. Some players are experiencing a blank or black screen when attempting to look at the online store.
No one wants that — so let's get into how to fix this annoying League of Legends store error.
League of Legends store: fixing the blank screen issue
How you fix the online store for League of Legends will depend on what kind of computer you have. Most of the time Mac OS users and Windows users have separate issues they will need to tend to, but there are a few solutions that apply to both.
One simple problem to fix is to make sure your clock on your computer is synced up to the correct time. If it isn't, your computer might have trouble connecting to the store. 
Another solution that applies to both is to try restoring your internet browser settings to default. Per Riot Games, here's how to reset Safari — note that even if Safari isn't your default browser, its settings still might be impacting the store's connectivity:
Open Safari. 
And here's how you reset your Internet Explorer for Windows settings — again, even if IE isn't your default browser, it might be impacting your connectivity:
Open the Start Menu. 
If these solutions don't help you, there are many other specific fixes that might. Luckily, there is a whole variety of potential solutions for both Mac and PC users on Riot's website.
More gaming news and updates
Check out the latest from Mic, including our deep dive into how female Overwatch players are dealing with online harassment, an article about a fan movement advocating for more same-sex romance options in Mass Effect, a cool making-of video for Legend of Zelda: Breath of the Wild and an article about what a Bechdel test for gaming might look like.