EPA chief Scott Pruitt could lose his law license for misleading Congress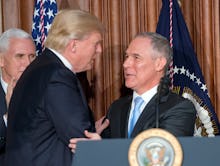 Scott Pruitt, the head of the Environmental Protection Agency, may lose his law license in Oklahoma for misleading Congress during his confirmation hearing.
Last week, the Center for Biological Diversity and University of Oklahoma law professor Kristen Van de Biezenbos filed a complaint against Pruitt with the Oklahoma Bar Association. The complaint alleged that Pruitt committed an ethics violation when he told the Senate he never used his personal email for official business in his time as attorney general for the state of Oklahoma.
"I use only my official [office of the attorney general] email address and government-issued phone to conduct official business," Pruitt told the Senate during the hearing.
But a massive tranche of Pruitt's official emails released just after his confirmation show that his personal email was copied on a number of correspondences concerning official business, including several email chains involving conservative and corporate interest groups like the American Fuel & Petrochemical Manufacturers and American Legislative Exchange Council.
"Lying to Congress is a serious ethical breach, and it doesn't help that Pruitt's use of private emails reflect potential collusion with the very oil and gas industry he's now supposed to be regulating," Amy Atwood, senior attorney for the Center for Biological Diversity, said in a statement.
Once a complaint is filed with the Oklahoma Bar Association it is automatically investigated according to OBA rules.
"We take all allegations of attorney misconduct very seriously," John Williams, executive director of the Oklahoma Bar Association, said.
According to the OBA's Rules of Professional Conduct, "A lawyer's conduct should conform to the requirements of the law, both in professional service to clients and in the lawyer's business and personal affairs." 
If the OBA's Professional Responsibility Tribunal finds that the complaint is valid, Pruitt could be stripped of his law license in the state of Oklahoma.