'The Walking Dead' actor Daniel Newman comes out in inspiring YouTube video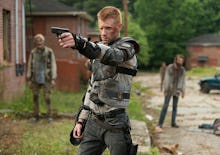 Shortly after making an announcement on Twitter, The Walking Dead actor Daniel Newman came out as gay in a heartfelt YouTube video on his personal page. In the video, Newman talked about how kids have approached him and thanked him for his work at LGBT youth shelters. When one girl thanked him for being a straight ally, he corrected her and told her he was gay. 
"I was like, 'Well, I'm not straight,'" Newman said in the video. "And she was like, 'Why have you never said that publicly before? You could help change our lives.' It hit me like a gut punch — it felt like somebody just knocked the wind out from under me. And I realized how important it is, in this day and age, to be visible. Have people know who you are." 
Newman plays the character Daniel on the series, who is perhaps best known for meeting Carol and Morgan at the end of season six, and introducing them to the Kingdom and its ostentatious leader King Ezekiel in season seven. Newman's visibility on The Walking Dead — one of the most-watched shows on cable — has provided the actor a larger platform to engage with fans and spread a message of inclusivity. 
"It's been a huge blessing," Newman told People. "I couldn't be on a greater show. It's the most eclectic group that celebrates all walks of life: white, black, Asian, gay, straight ... every single diversity, they just celebrate it all and highlight people. It's the greatest experience I've had in my career." 
Shortly after Newman's announcement, fans of the series — and King Ezekiel himself — expressed their love and support on Twitter. 
You can watch the video of Newman's announcement below:
Mic has ongoing coverage of The Walking Dead. You can follow our main Walking Dead hub here.