The Senate Intelligence Committee reportedly rejected Michael Flynn's plea for immunity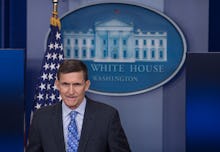 The Senate Intelligence Committee turned down former national security adviser Michael Flynn's request to testify in exchange for immunity, NBC News reported, citing two congressional sources.
"A senior congressional official with direct knowledge said Flynn's lawyer was told it was 'wildly preliminary' and that immunity was 'not on the table' at the moment," NBC News reported. "A second source said the committee communicated that it is 'not receptive' to Flynn's request 'at this time.'"
The Wall Street Journal reported on Thursday that Flynn asked the Senate and House intelligence committees as well as the FBI for immunity from prosecution in exchange for testimony in the ongoing investigations about the Trump campaign's potential ties to Russia.  
A letter from Flynn's attorney stated that Flynn "certainly has a story to tell" investigators, but that a "reasonable person" wouldn't testify without protections. Though the Senate has opted against granting Flynn immunity, the other investigations may make their own decisions. 
On Thursday, Trump tweeted in support of Flynn's plea for immunity, saying, "Mike Flynn should ask for immunity in that this is a witch hunt (excuse for big election loss), by media & Dems, of historic proportion!"
During the FBI's 2016 investigation into Hillary Clinton's emails, Flynn repeatedly accused Clinton associates of criminal wrongdoing, saying, "When you are given immunity, that means you probably committed a crime."
The House and FBI have yet to comment on Flynn's request.