'Call the Midwife' Season 6 Preview: 5 things to expect from the new episodes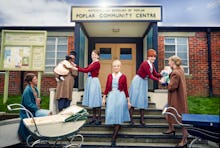 The steely, resolute midwives of Poplar will make their way stateside on Sunday when the sixth season of long-running BBC drama Call the Midwife premieres on PBS at 8 p.m. Eastern.
When it first debuted in the U.S. back in 2012, the series was based on the memoirs of Jennifer Worth, who worked as a nurse and midwife in the East End of London during the 1950s (Worth was portrayed by actress Jessica Raine, who left the show after the third season). In recent seasons, however, with Call the Midwife's timeline moving into the early 1960s, the show has relied less on Worth's original source material and is now billed as being "inspired by the memoirs of Jennifer Worth."
But that doesn't mean the story lines are any less riveting, or, in many cases, shocking. Season five, for example, dealt with issues ranging from the introduction of the birth control pill to the harrowing effects of Thalidomide on newborn babies. Throughout it all is a close-knit team of resilient midwives living together in a neighborhood convent called Nonnatus House (some are medically trained nuns), run by the motherly Sister Julienne.
In an age where we are constantly at the mercy of technology, a show like Call the Midwife forces viewers to take a break from our laptops and tablets to recall a time when babies were still delivered at home (without epidurals!), in-house telephones were a luxury and homosexuality was taboo. But, as the new season — which takes place in 1962 — demonstrates, change is coming to the streets of Poplar.
Read on for five things you can expect to see when season six of Call the Midwife premieres Sunday (and if you need to catch up, the first five seasons are currently available to stream on Netflix):
1. More on the Thalidomide after-effects 
Call the Midwife has not forgotten about last season's story arc on the devastating consequences faced by women who took Thalidomide in pregnancy. The Mullucks family, whose baby girl, Susan, was born with deformed limbs, will be seen again in season six. With few resources available for Susan, raising a handicapped child in 1962 Britain presents day-to-day challenges for her parents.
2. Patsy and Delia's relationship
Viewers might remember what happened to local mechanic (and closeted husband) Tony Amos in season four, and if you do, then don't get your hopes up that things have improved much in the way of gay rights two years later. The relationship between nurse Patsy Mount and nurse Delia Busby is still going strong, yet they continue to live as just friends within the confines of Nonnatus House. Sadly, their romance is consistently stifled by the social mores of the time, although one awesome fellow Nonnatus resident will make herself known as an ally of their clandestine love.
3. Downton Abbey cast crossovers
Still missing Downton Abbey? Well, fear not, because season six continues in the Call The Midwife tradition of featuring at least one Downton cast member as a guest star. Cara Theobold (kitchen maid Ivy on Downton) has previously shown up as Amos' clueless-to-his-sexual-preference wife, and Paul Copley — a.k.a. Daisy's supportive father-in-law, Mr. Mason — played Nurse Phyllis Crane's potential suitor in season five. For the new season, we get Harriet Walter, known to Downton fans as Lady Shackleton — or rather, Matthew Goode's aunt — as the strict new head of Nonnatus House, Sister Ursula.
4. A focus on mental illness
The first few seasons of Call The Midwife had a procedural bent to it, with the midwives tending to a case, and then for the most part, forgetting that story line as soon as the episode ended. But in the past couple of seasons, starting with the Thalidomide arc, the series has made a concerted effort to stay with narratives that cannot be solved in the space of 60 minutes. So be prepared for more on the effects of Sister Mary Cynthia's violent attack from last season.
5. A tough-to-watch premiere episode
Despite the celebratory mood that pervades Nonnatus House (nurse Barbara Gilbert is now engaged to her boyfriend, Reverend Tom Hereward), Sunday's premiere also features a domestic violence story line. The midwives treat an abused pregnant woman who finds that the law — and her own mother — tend to be on her brutish husband's side. The subplot upset viewers when the episode aired in Britain, though many others praised Call the Midwife for highlighting such a serious issue that continues to be relevant 55 years after the show's time period.
Watch the official trailer for Call the Midwife's sixth season below:
The sixth season of Call the Midwife premieres Sunday, April 2, at 8 p.m Eastern on PBS.
Mic has ongoing TV coverage. Please follow our main TV hub here.