'Destiny' Xur Location March 31 to April 2: Where to find Xur and what he's selling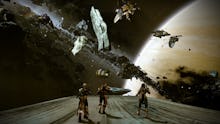 The itinerant exotic vendor Xur is back again this weekend in Destiny. The hooded weirdo with a gross face moves around the tower every weekend and always has a different inventory of high-quality gear if you're feeling a bit spendy.
Per VG247, here is where to find Xur and what he's got in Destiny from March 31 to April 2.
Xur location and what he's selling: March 31 to April 2
Xur's hanging out in the Vanguard area in the Tower this weekend, near the plot where you find the Crucible Quartermaster. For Titans, he's got the exotic Ruin Wings gauntlets for 13 Strange Coins. Hunters can get the Fr0st-EE5 pants and Warlocks can grab the Astrocyte Verse helmet, with both of those also ringing up for 13 Strange Coins.
For 23 Strange Coins, you can pick up the exotic sniper rifle No Land Beyond. He's also selling a couple of weapons bundled with ornaments. You can get Zhalo Supercell and a Shock Hazard ornament, or Monte Carlo and its Royal Flush ornament for 30 Strange Coins each. 
Seems like a decent variety of options if you've got the cash. Since none of your Strange Coins (or anything else) will carry over to Destiny 2, you might as well get a little spendy in the first game's waning days.
More gaming news and updates
Check out the latest from Mic, including our deep dive into how female Overwatch players are dealing with online harassment, an article about a fan movement advocating for more same-sex romance options in Mass Effect, a cool making-of video for Legend of Zelda: Breath of the Wild and an article about what a Bechdel test for gaming might look like.