What color is Crayola getting rid of? Say goodbye to Dandelion yellow — here's why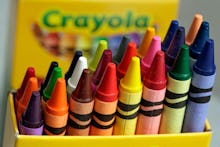 Crayola crayons are getting a new addition to its 24-count box — but in order to do so, the classic crayon collection is saying goodbye to a beloved family member: Dandelion yellow.
The crayon company revealed the color's departure on social media Thursday, one day earlier than the company's initial plan to announce its retirement on National Crayon Day. Dandelion yellow, the company said, made the early announcement because of his overwhelming wanderlust. "There's no taming an adventurous spirit," the company's social media announcement explained. 
The early announcement, however, may actually be due to eagle-eyed Target customer Frank Hegyi, who spotted the color's retirement announcement on a crayon box and posted it on Twitter. 
The vibrant yellow hue, NPR reported, is a relatively new addition to the 24-count box, and was first introduced in 1990. This isn't the first time Crayola has retired a color, NPR noted, and Dandelion yellow will soon join the ranks of such other discontinued hues as Maize, Raw Umber, Orange Red, Mulberry and Teal Blue.
Dandelion yellow won't go into retirement quietly, however. The crayon will fulfill his wanderlust by embarking on a four-week #CelebrateDandelion retirement tour, which will include stops in New York City, Orlando, Florida, Toronto and, of course, Crayola's headquarters in Easton, Pennsylvania.
Despite Dandelion's imminent departure, Crayola's 24-count box won't be one member short for long. The Crayola box Hegyi found at Target suggests the crayon collection will soon get a new dark blue addition, whose name will be decided through a contest.