Mary J. Blige's 'Strength of a Woman': Release date, track list and more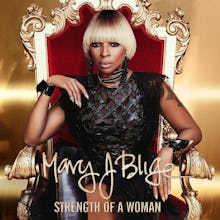 Mary J. Blige is taking the pain from her recent divorce battle and turning it into light on her new album Strength of a Woman. On her previous release, Mary J. Blige made her way across the pond to record the London Sessions LP, working with U.K. singer-songwriter Sam Smith and DJ's Disclosure to name a few, to bring the project to life. Now, three years later, she's back and prepping her new record, which will drop on Friday, April 28. Here is what we know about it so far.
Background
The queen of hip-hop soul has unveiled two songs from Strength of a Woman so far. She released a lyric video for her new track "Love Yourself," featuring Kanye West, on Friday. On the new single, she sings about putting her self-love first before choosing to love someone else. 
In November 2016, Blige began rolling out new material from the album with the song "Thick of It." The singer, who has always been open in her music about her experiences overcoming toxic relationships, is expected to continue that pattern in this forthcoming opus. 
During an interview on the Angie Martinez Show Thursday, Blige was transparent about the difficulties of divorcing her husband and former manager Martin "Kendu" Isaacs. After 13 years of marriage, Blige filed for divorce in July 2016. The former couple married in December 2003. Isaacs has requested Blige pay him $129,319 a month in spousal support. 
"He has the power to make it all go away if he just would stop demanding what he's demanding, and that's not fair to me because he doesn't deserve what he's demanding," she said to Martinez. 
Blige is ready to move forward with her life. She's channeling some of these frustrations into her April record. "Now I'm saying I'm a little pissed right now and hurt and all of that, but there's light at the end of the tunnel. But I'm human and this is hard and this is a lot to deal with. So this album just embodies what I'm dealing with," she further explained.
Collaborators
Besides, Yeezy, Strength of A Woman will have feature collaborations from Quavo of Atlanta trap rap trio Migos, DJ Khaled, Missy Elliot, Prince Charlez and producer Kaytranada. 
Tracklist
Take a look at the 14 new tracks coming on Mary J. Blige's Strength of a Woman album via iTunes.
1. Love Yourself (feat. Kanye West)
Mic has ongoing coverage of Mary J. Blige. Please follow our main Mary J. Blige hub here.