'The New Yorker' takes aim at Trump again with latest cover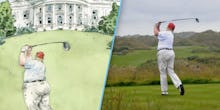 The April 10 New Yorker cover, shared in a preview on the magazine's Facebook page on Friday, takes sharp aim at President Donald Trump — depicting Trump, clad in his golf attire, smashing all the White House windows one-by-one.
The upcoming cover, titled "Broken Windows," was drawn by artist Barry Blitt, who told New Yorker art editor Françoise Mouly for a piece on the magazine's website that this latest cover was inspired by watching Trump "plowing one drive after another through the glass windows of American politics." 
The cover art is also a pointed reference to Trump's frequent golf outings. Since his inauguration in January, Trump has been on at least 13 golf trips and has spent eight consecutive weekends away from the White House, visiting his own properties — all this despite his frequent campaign trail criticisms of former President Barack Obama's golfing.
Next week's cover isn't the first time Blitt has used the cover of the New Yorker to send a critical message about Trump. Back in January, Blitt drew the magazine's cover for the week of Trump's inauguration — it depicted a tiny Trump riding a child-size toy car with the seal of the presidency on it.
"Every so often, you hear stories on the news about a toddler who somehow manages to start the family car and drive the vehicle across town, where the law finally apprehends him — and it's almost always a him — before too much damage has taken place," Blitt said at the time. "As to why this would come to mind on the week of our new president's inauguration ... I have no idea!"