This minor league baseball team is trolling Trump with an "alternative facts" night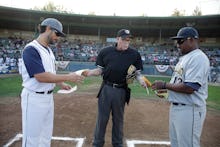 The San Rafael Pacifics baseball team has owned President Donald Trump "bigly" with a "huge" announcement: On Aug. 4, the club will host "Alternative Facts Night."
Yes, the independent minor league squad will take on the Sonoma Stompers — and the Trump administration's shaky relationship with the truth — before the "hugest crowd" in the history of sports.
According to the epic press release, which is riddled with Trumpian exaggerations and misspellings, the game will feature a "Salute to Russian Democracy" and a "new grandstand structure" paid for by Mexico. 
The Pacifics also used Twitter, Trump's favorite mode of communication, to get the word out about their promotion, attacking their haters and dismissing their enemies as "bigly wrong."
Though "3-to-5 million people have already purchased tickets" to the Aug. 4 contest, seats in the 1,000-capacity stadium are still available to watch the Pacifics and Stompers take the diamond.