When will 'Fear the Walking Dead' season 3 premiere? Here's everything we know.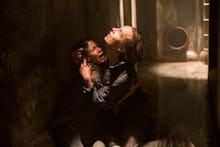 The Walking Dead wrapped up its seventh season on Sunday night, leaving a zombie-sized hole in the hearts of viewers. Fortunately, AMC has another apocalyptic drama on deck to keep fans occupied until the season eight premiere — Fear the Walking Dead 
When will Fear the Walking Dead season three premiere?
AMC confirmed The Walking Dead companion series will premiere on Sunday, June 4. Those that tune in for the premiere will be able to catch two back-to-back episodes starting at 9 p.m. Eastern.
Where will season three pick up?
Things were not looking good for the survivors when Fear the Walking Dead last left off. Nick and Luciana attempted to lead a group of survivors to safety, but were captured by armed guards at the Mexican border. Ofelia, who went off on her own, found herself in a similar situation. She was last seen being held at gunpoint after crossing back into the United States. A photo from season three hints she might be alright, though. Ofelia is pictured wearing new clothes next to a heavily armored car. 
Another photo released by AMC teases Madison and Travis, who were forced to leave the safety of the hotel in season two, will find a new group. A man with a weapon can be seen behind them, but it's unclear if he's part of the military, or just a civilian with a gun. 
Madison's daughter, Alicia, is pictured in another photo from season three. Like Madison and Travis, she also fled the hotel. 
Then, of course, there is Strand. When season two concluded, Strand had decided to part ways with Madison and stay behind at the hotel. How does he get blood on his hands in season three? Viewers will have to tune in to find out.
What else do we know about season three?
Fear the Walking Dead will introduce some new faces in season three. Daniel Sharman of Teen Wolf and The Originals fame will join the cast as a character named Troy. According to the Wrap, Troy is charismatic, but has a "wild temperament" and is "suspicious of outsiders." TV Line also reports that Buffy the Vampire Slayer alum Emma Caulfield will be appearing in a guest role. Details on her character have not been released.
Mic has ongoing Fear the Walking Dead coverage. Check out our main Fear the Walking Dead hub here.