Spicer suggests we thank the Trump admin's billionaires because they've "given up a lot"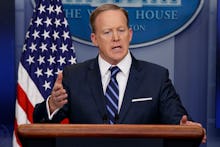 Members of President Donald Trump's administration will release their personal financial disclosures on Friday afternoon, a public disclosure that is mandated by law.
And so, White House press secretary Sean Spicer took the opportunity at Friday's press briefing to urge the American people to thank the many millionaires and billionaires in the administration for undergoing this "public scrutiny." Their disclosures, he insisted, will show they have "set aside a lot" to serve the public.
"One of the really interesting things that people are going to see today, and I think it's something that should be celebrated, is that the president has brought a lot of people into this administration, into this White House in particular, who have been very blessed and very successful by this country, and have given up a lot to come into government," Spicer told reporters.
Americans, he continued, should thank the very rich members of Trump's administration — one of the richest and least qualified in modern history — because they've sacrificed lots of wealth to enter public service.
"You'll see that people are often told that they have to sell an asset or get rid of something to come serve in the government," Spicer said. "But there's a lot of people that have done a lot to come into this administration to give back."
During the briefing, Spicer also dodged a question about whether the president will release his latest tax returns, due on April 18.
One reporter pointed out that there's no way Trump's newest returns could possibly be under audit yet — Trump's current reasoning for not releasing his returns — and asked whether that means Trump will release his 2016 tax documents.
"I don't know," Spicer said, joking that he's more concerned with filing his own taxes at the moment.