New York HIV/AIDS nonprofit gets a homophobic, racist fax from "Mrs. Gas the Gays"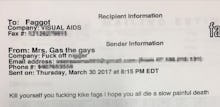 On Thursday evening, Nelson Santos was working late at arts-based AIDS advocacy nonprofit Visual AIDS when he heard the office fax machine rev up and begin delivering a message. 
The message — addressed to "Faggot" and from "Mrs. Gas the gays" — read, "Kill yourself you fucking kike fags, I hope you all die a slow painful death." 
"I was thrown for a loop," Santos, executive director of the New York City-based nonprofit, said in a phone interview. "I haven't gotten a hate fax in an awful long time. No one really sends faxes — and particularly a hate fax. It was so odd." 
Santos posted about the fax on Instagram. 
He said he "couldn't think of anything in particular" that Visual AIDS had done lately that the fax could be in response to. "Not that someone like this needs much of a trigger," he added. 
Santos said he can only remember getting hate mail "less than a handful" of times over the years from people, and nothing very recent. 
He was thrown by the odd mix of hatred in the message: a blend of racism, homophobia and anti-Semitism. Though Santos initially wasn't frightened by the message, he said it's stuck with him. 
"I wanted to brush it off, but as soon as I walked out the door, I did feel more unsafe than I did before," Santos said. "It's always those reminders of that, like, there are people out there that hate you." 
He added, "I don't necessarily think the person who sent this is waiting for me outside, but it does trigger that very uncomfortable idea of, I don't know, maybe that person is threatening us."
Though the threatening letter doesn't make direct reference to political matters or President Donald Trump, Santos sensed "some sort of connection" between the note and the current political climate. In the first month since Trump's election, the Southern Poverty Law Center reported 1,094 bias-related incidents. 
Many of the incidents have been anti-Semitic in nature. In March, the entire U.S. Senate signed a letter to the president asking him to investigate the rash of bomb threats against Jewish Community Centers nationwide. 
And New York, where Visual AIDS is based, has been the site of bias incidents, as well. In February, subway riders banded together to scrub swastikas from signage on the train cars. 
Santos said he believes the election and its aftermath have empowered people to show their hate — even if it's through a fax. 
"I think it does open up the floodgates for people to feel more brazen to break out their fax machine and send out a hate fax again," he said. "To me, it seems to go hand in hand." 
April 4, 2017, 4:27 p.m.: This article has been updated.