Donald Trump just un-ironically declared April "National Sexual Assault Awareness" month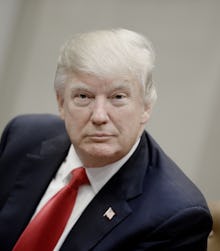 President Donald Trump on Friday declared April National Sexual Assault Awareness and Prevention Month, a move that was promptly met by scorn on social media, as users pointed out the numerous women who have accused the president of sexual assault.
"At the heart of our country is the emphatic belief that every person has unique and infinite value," Trump said in a presidential proclamation. "We dedicate each April to raising awareness about sexual abuse and recommitting ourselves to fighting it. Women, children, and men have inherent dignity that should never be violated."
Trump, for his part, has bragged about sexually assaulting women, saying in a 2005 Access Hollywood tape that he could grab women by the pussy because he was famous and could "do anything." 
He also said in that tape that he kissed women without their permission — the very definition of assault.
"I'm automatically attracted to beautiful [women]," Trump was heard telling then-Access Hollywood host Billy Bush on the tape. "I just start kissing them. It's like a magnet. Just kiss. I don't even wait." Trump wrote the comments off as "locker room talk."
Over the course of the campaign, at least a dozen women came forward to accuse Trump of sexual assault. Trump denied those claims, going as far as to suggest some of the women accusers were not attractive enough for him to have assaulted.
Twitter dragged Trump's sexual assault day proclamation.
"Grab Em By The Pussy Month will be in May," MSNBC host Chris Hayes sarcastically tweeted.
"I wonder if Trump would encourage this same support of the 16 women who have publicly accused him of sexual assault," the Huffington Post's Emma Gray tweeted.