'MLB The Show 17' Conquest Rewards: What you get for conquering divisional territories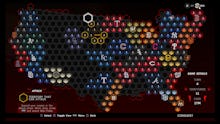 Conquest Mode returns to the Diamond Dynasty feature in MLB The Show 17, but there are more rewards for playing the mode. Here's everything you need to know.
MLB The Show 17 conquest rewards guide
This year, there are divisional missions that challenge you to take over the territories of every team in each division. 
Essentially, you have to grow your fanbase and venture into the areas of each team, defeat them and grow your army of support until you have taken over most of the map.
If you're successful, a pretty sweet collection of cards awaits. Per Cardinalbird5, here's a list of the cards you receive for completing each divisional and league missions.
• NL West: Paul Goldschmidt - 89 overall
• NL Central: Geovany Soto - 86 overall
• NL East: Anthony Rendon - 87 overall
• AL West: Jim "Catfish" Hunter - 91 overall
• AL Central: Alcides Escobar - 86 overall
• AL East: C.C. Sabathia - 91 overall
Once you've completed all of the NL teams, you'll get a 93 overall Matt Holliday. A 93 overall Curtis Granderson is the reward for conquering the AL teams.
After conquering all of the major league territories, you'll receive a 94 overall Reggie Jackson.
That's not a bad group of guys. Your team should be ready for some serious online wars after receiving these additions to your collection and Diamond Dynasty lineups.
More sports gaming news and updates
Are you a sports gamer? Check out more content from Mic, including tips for leveling up your NBA 2K17 MyPlayer, playing quarterback in Madden 17, our review of MLB The Show 17 and the classic Nintendo sports games we want to see on the Switch.