George Takei announces run for Congress on Twitter, then calls it April Fools' joke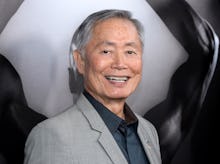 From the perils of space to the perils of Congress. 
In the early morning hours of April Fools' Day on the East Coast, actor George Takei announced on Twitter he would be running for U.S. Congress. Takei cited a Daily Buzz article that claimed to quote him and said, "Well, the cat's out of the bag it seems. Let's do this!" 
"Well, I guess the jig is up," Takei allegedly told the Daily Buzz. "With what is going on now in the country, I couldn't stand by any longer merely as a citizen. I knew I had to take a bigger stand. So that's why I'm running for Congress." 
Takei said he hoped to challenge Devin Nunes for his seat in 2018. Nunes, the Republican representative for California's 22nd district and chairman of the House Intelligence Committee, is currently under scrutiny for potentially compromising the committee's independent investigation into Russia's involvement in the 2016 presidential election. Several members of Congress have asked Nunes to step down from his position on the committee or recuse himself from the investigation.
Takei has been a vocal critic of the Trump administration, especially Trump's de facto Muslim ban. Amid nationwide protests, Takei called on Trump to resign after signing an executive order banning citizens from seven majority-Muslim countries from entering the United States. 
A few hours later on Saturday morning, Takei tweeted an image of him holding a sign saying "Gotcha!" — indicating his announcement was, in fact, just a joke. He did, however, endorse Jon Ossoff, who is running for Congress in Georgia's sixth district, where Tom Price served before being asked to join Trump's administration as secretary of health and human services. 
If Takei were to ever run and be elected, he would bring some much-needed diversity to Congress. According to the Pew Research Center, people of color comprise just 19% of Congress, compared to 38% of the nation's general population. However, 2017's freshman class of legislators was much more diverse. Of the 59 new members of Congress, 34% were people of color.
People were so excited by Takei's announcement that the tweet garnered more than 12,000 retweets in just around seven hours. His mentions were already filled with potential supporters, including actor and activist Mark Ruffalo and Rep. Ted Lieu. 
Whether the Daily Buzz's article or Takei's announcement will last past April Fools' Day remains to be seen. Though the Daily Buzz has several legitimate news articles on its site, it also posted the Takei interview under its "Daily LOL" category. However, other stories with the same tag — including articles about Sean Spicer and internet privacy — are proper news pieces. 
The article was also not technically published on April 1, though some brands chose to roll out April Fools' Day hoaxes on Friday, one day early. And while Takei's announcement was six minutes into April Fools' Day on the East Coast, it was still in the blurry in-between hours on the West Coast. 
Apr. 1, 2017, 11:02 a.m.: This story has been updated.