Gilbert Baker, designer of the rainbow flag and prominent gay rights activist, has died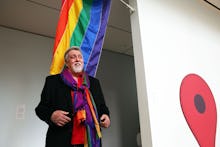 Gilbert Baker — the gay rights activist who designed the iconic rainbow pride flag — died in his sleep Friday at his New York City home. He was 65.
Fellow activist Cleve Jones — a friend of Baker's — confirmed the death on Twitter.
Harvey Milk, the first out gay person elected to public office in California — who was later assassinated — asked Baker in 1978 to create a flag representing the gay rights movement.
"We needed something that was from us," Baker told NBC Out in 2016. "Flags are about power. Flags say something; they're not just symbols." 
Wanting the flag to represent a "global tribe" of LGBTQ people, Baker quickly came up with the iconic rainbow design.
"We needed something that didn't have to say 'gay power' or 'LGBT,'" Baker said. "We needed something that worked beyond words and the rainbow fits perfectly." 
Baker made the first flag out of 1,000 yards of fabric in the attic of the Gay Community Center in San Francisco, unfurling it for the first time at a pride parade June 25, 1978, according to the New York Times.
"It expressed our diversity in terms of our gender, our races, our ages and all the ways that we're different and yet connected," Baker told NBC Out.
Born in Kansas in 1951, Baker served as an army medic between 1970 and 1972, stationed in San Francisco at the beginning of the gay liberation movement. 
He never trademarked the rainbow flag — "it was his gift to the world," Jones told the New York Times — but was closely associated with it throughout his life. He recently completed 39 nine-color flags to commemorate its 39th anniversary.
No cause of death had been announced as of Saturday morning.
Members of the LGBTQ community and their allies mourned Baker as a "colorful" soul who created an "international symbol of pride."