Sleepy Eyes Chuck Todd: Trump scolds 'Meet the Press' host on Twitter for Russia coverage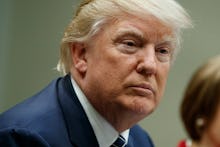 Strangely Coiffed Donald Trump — president of the United States and the man who brought you Crooked Hillary Clinton, Lyin' Ted Cruz and Little Marco Rubio — dropped his latest "burn" Saturday, calling out "Sleepy Eyes Chuck Todd" for his coverage of the Trump administration's possible ties to Russia.
Of course, there isn't really an Obama "SURVEILLANCE SCANDAL." House Intelligence Committee chairman Devin Nunes explicitly stated on March 24 that, "There was no wiretapping of Trump Tower. That didn't happen." And as for that "Fake Trump/Russia" story — well, the FBI investigation he's under should reveal just how "phony" that is.
But Tie-Tapin' Trump was right about one thing: Meet the Press host Chuck Todd does, in fact, look kind of sleepy sometimes.
"Sleepy Eyes Chuck Todd" was trending on Twitter on Saturday, with many dragging Trump for his childish insult.