Sage Smith, transgender woman missing since 2012, now considered homicide case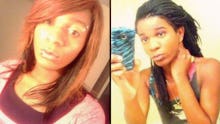 On Wednesday, the Charlottesville, Virginia, Police Department announced it had reclassified the ongoing investigation into the disappearance of 19-year-old transgender woman Sage Smith as a homicide, NBC 29 reported.
Authorities said changing the nature of the case would broaden the methods of their investigation — according to LGBTQ Nation, they're now permitted to check bank and cell phone records. 
Smith was last seen near an Amtrak train station in November 2012. Investigators believe Smith was meeting acquaintance Erik McFadden there, but McFadden told police the meeting never took place, according to NBC 29. Authorities said in November 2015 that McFadden was no longer a person of interest in Smith's disappearance, but changed their decision in December.
At the time, a series of text messages emerged that seemed to suggest Smith and McFadden had not, in fact, met up. At the time, a Facebook post cowritten by Smith's grandmother, Lolita Smith, derided the police department for only releasing new information "in response to community pressure." 
"We are suspicious that these new findings are being announced just days before a community-organized event commemorating the third anniversary of Sage's disappearance," the post read. 
"What prompted the reclassification was the totality of the investigation up to this point, and the fact [Sage] Smith has not been heard from since [s]he was reported missing in November 2012," Lt. Steve Upman told NBC 29. 
Smith's grandmother told the Richmond Times-Dispatch she was angry the case has stretched on so long.
"Frankly, I don't understand why they waited so long," Lolita Smith said. "It's been four years. I think the Charlottesville Police Department dropped the ball from day one. 
"I'm angry. I don't understand how some cases can be solved within a matter of days or weeks and my grandchild's case hasn't been solved yet." 
Police made the decision in December to reclassify the case as a homicide, but decided to give the family time to "digest" the change before notifying the public. 
"I just want people to help me bring my baby home," Lolita Smith told the Times-Dispatch.  "I just want somebody to tell me what makes one person's life more valuable than another. We are all somebody's child. We are all children of God."