Bill O'Reilly and Fox have paid nearly $13 million to quiet women's harassment complaints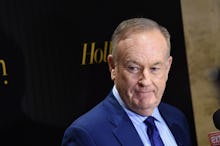 Fox News has settled over $13 million in sexual and verbal harassment lawsuits against its star anchor, Bill O'Reilly, the New York Times reported Saturday. 
The harassments vary in nature and allegedly include verbal abuse, lewd comments, unwanted sexual advances and phone calls from O'Reilly during which it sounded like he was masturbating, according to the New York Times. 
The report claimed O'Reilly's advances followed a recognizable pattern. O'Reilly would befriend women in the newsroom, promising professional advice and guidance, only to then switch gears and attempt to forge sexual connections with the women. He often made the women fear their careers would be in jeopardy if they didn't reciprocate his advances. 
The New York Times reported previously on two sexual harassment lawsuits against O'Reilly. However, the newspaper's latest report detailed new cases, including two settlements that came after Fox News CEO Roger Ailes resigned after being sued by anchor Gretchen Carlson for sexual harassment. The investigation found a total of five women who had reached settlements with the network and O'Reilly in exchange for not filing suit over his behavior. 
Of the three new cases, two were sexual harassment claims, and the other cited O'Reilly's verbal abuse against a young producer in front of Fox News colleagues. 
Other women spoke to the New York Times about O'Reilly's behavior. One guest on his show, Wendy Walsh, told the newspaper that after turning down a 2013 invitation to O'Reilly's hotel suite, he retaliated by failing to help Walsh secure a position at the network as promised. In a suit filed against the network and Ailes in the summer of 2016, former host Andrea Tantaros also said O'Reilly sexually harassed her. 
In a statement, 21st Century Fox didn't offer specifics about the settlements:
21st Century Fox takes matters of workplace behavior very seriously. Notwithstanding the fact that no current or former Fox News employee ever took advantage of the 21st Century Fox hotline to raise a concern about Bill O'Reilly, even anonymously, we have looked into these matters over the last few months and discussed them with Mr. O'Reilly. While he denies the merits of these claims, Mr. O'Reilly has resolved those he regarded as his personal responsibility. Mr. O'Reilly is fully committed to supporting our efforts to improve the environment for all our employees at Fox News.
As the New York Times pointed out, O'Reilly is an essential part of Fox News' talent roster. He earns $18 million a year for hosting The O'Reilly Factor every weeknight at 8 p.m. The show generated its parent company $446 million in ad revenue from 2014 to 2016, according to the newspaper. 
O'Reilly's fame among his conservative viewers is perhaps equally matched with his rancor among those who don't tune in. O'Reilly garnered negative press on Tuesday after dismissing Rep. Maxine Waters and mocking her hair, calling it a "James Brown wig." O'Reilly eventually apologized for his remarks. 
O'Reilly is known for making racially insensitive comments in the name of political correctness. In April 2016, O'Reilly said many black men are unsuitable for jobs because they are "ill-educated and have tattoos on their foreheads."