Steve Bannon may be worth as much as $56 million, according to financial disclosure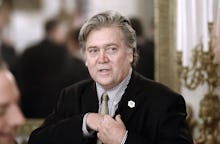 Steve Bannon — the White House chief strategist who has helped President Donald Trump craft his "America First" populist message — earned at least $1.3 million in 2016 and reported between $13 million and $56 million in assets, according to financial disclosures released by the White House on Friday.
Bannon's financial disclosure highlights his deep financial ties to the Mercer family — mega-donors to Trump's presidential campaign during the general election.
Bannon reported earning $191,000 from Breitbart, the alt-right media organization he helmed until joining Trump's team; $167,500 from Glittering Steel LLC, a movie production company behind the anti-Clinton movie, Clinton Cash; $125,333 from Cambridge Analytica, a political data analysis firm; and about $61,000 from the Government Accountability Institute, a conservative nonprofit research organization with ties to Breitbart. 
Each of these enterprises are backed by the Mercer family, according to USA Today.
Bannon's filing also raises questions about when he resigned from his Breitbart position. In his financial disclosure, Bannon reported having left Breitbart upon joining Trump's campaign in August. But in a recent letter to the Senate press gallery, Breitbart CEO Larry Solov wrote that Bannon resigned "on or about Nov. 13," when he began his White House gig.
According to the financial disclosure, Bannon may have made up to $2.3 million in 2016.
The White House released financial disclosures from other top aides Friday and will continue to do so over the weekend. 
They are "not the current holdings that everyone has today," but reflect what employees held before joining the administration, according to the White House.
Neither Trump nor Vice President Mike Pence will be included in the reports, but the disclosures reveal the extraordinary wealth of the Trump administration — which, White House press secretary Sean Spicer said Friday, demonstrates the president's ability to attract top executives.
"I think it speaks volumes to the desire for a lot of these people to fulfill the president's vision and move the agenda forward that they are willing to list all of their assets, undergo this public scrutiny, but also set aside a lot," Spicer told reporters.