Crayola asked Twitter to name a new crayon color. Twitter responded by roasting Trump.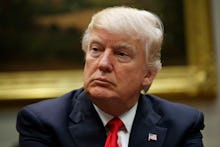 And you thought crayons were apolitical.
After announcing the retirement of the color "Dandelion yellow," Crayola teased an upcoming contest to name a new dark-blue addition to its classic 24-count box.
Naturally, Twitter users began using the hashtag #NewCrayonColors to propose new shades Crayola could incorporate to fill the hole Dandelion left behind. And Twitter's suggestions mostly made fun of President Donald Trump and his administration — including its apparent embrace of alternative facts, its reference to the nonexistent Bowling Green massacre and its gutting of the Environmental Protection Agency. 
Rather than poking fun at Trump, some people used the hashtag to show their opposition. 
Others just made fun of the Republican Party in general. 
This isn't the first time people have poked fun at the color of the president's skin. During his Grammys  performance, Busta Rhymes called Trump "Agent Orange." 
If the 2016 presidential election is any indication, elections in general can be unpredictable. Trump seems poised to win another one — though this contest would see his legacy move into a crayon box rather than the White House.