White House financial disclosures: What the reports show about the Trump administration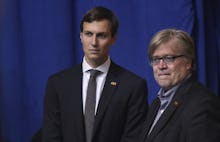 We already know the Trump administration is one of the richest in history, but financial disclosures released by the White House late Friday further undercut President Donald Trump's populist, "drain the swamp" rhetoric.
According to the disclosures, advisers Ivanka Trump and Jared Kushner may hold financial assets of more than $740 million; White House Chief Strategist Steve Bannon may hold assets totaling $56 million; and White House Chief of Staff Reince Priebus earned $1.4 million in 2016 — including close to $500,000 from the Republican National Committee.
In addition to highlighting the big bank accounts of Trump's top staffers, the disclosures also raise ethical questions about high-ranking members of the administration.
The White House will continue to release financial disclosures throughout the weekend — but those of President Trump and Vice President Mike Pence will not be among them.
White House press secretary Sean Spicer praised the release of the required disclosures as "more accessible, more available than in history" while defending the president's refusal to release his own tax returns.
 "I think that's apples and oranges. These are required by law," Spicer told reporters Friday. "I think there is an element of going above and beyond what has been done in the past to make sure that people have access to this."
The wealth of the Trump administration
The White House will release up to 180 financial disclosures of top administration staffers, according to USA Today.
Those that have been released thus far underline the extraordinary wealth of the Trump administration.
Ivanka Trump and Jared Kushner headline a White House roster that includes Kellyanne Conway and her multimillion-dollar portfolio; former Goldman Sachs CEO Gary Cohn, who is currently serving as the director of Trump's National Economic Council; and Dina Habib Powell, another former Goldman executive now working in the White House.
According to Spicer, the administration's wealth is something to be "celebrated" because it shows Trump has been able to surround himself with "very blessed and very successful" people.
"I think it speaks volumes to the desire for a lot of these people to fulfill the president's vision and move the agenda forward that they are willing to list all of their assets, undergo this public scrutiny, but also set aside a lot," Spicer said.
Ethical concerns raised by White House financial disclosures
The financial disclosures released Friday show Ivanka Trump and Jared Kushner continue to benefit financially from the businesses they resigned from to take their unpaid White House jobs.
Kushner continues to profit from the real estate empire he operated with his father, USA Today reports, and Ivanka Trump still holds an ownership stake of $5 million to $25 million in Trump International Hotel in Washington, D.C.
Additionally, the releases show that Conway was paid for consulting work she did for the Center for Medical Progress, the anti-abortion organization behind the undercover Planned Parenthood videos that led to felony charges for the activists who filmed them, and that Priebus earned three-quarters of a million dollars from a Milwaukee law firm he's been on leave from since 2011.
The financial disclosures also raise questions about when Bannon left Breitbart. The disclosures show him having resigned from the alt-right media organization in August, when he joined Trump's campaign, but a recent letter to the Senate press gallery from Breitbart CEO Larry Solov said that Bannon resigned after the election "on or about Nov. 13."