'Girls' season 6, episode 8 recap: We need to talk about Adam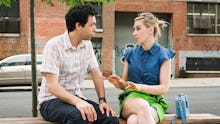 As HBO's Girls inches closer to the series finale, we're circling Adam and Hannah's eventual resolution. 
Episode 8 is titled "What Will We Do This Time About Adam?" The season 6 installment opens with a surprising scene in which Adam tells Jessa he needs to explore this baby with Hannah. Although Hannah and Adam have lived their separate lives for so long, it's clear the decision has been weighing on him. He tells Jessa it's something he has to do. He just wants to help, even though he is not the father.
The two meet in a convenience store unexpectedly. Hannah scolds him for his movie based on their relationship, but Adam isn't bothered. "I want to raise your child with you. I miss you and I miss being with you," he says to her. 
"I'm so confused," Hannah says, with her mouth wide open. Just like that, Adam and Hannah are back in their groove like they were never even apart. 
"There's too much history here. There's too much good stuff not to try," Adam confesses to Hannah after she asks him why he's come back. The two catch up and talk about everything, even discussing his relationship with Jessa — she laughs during sex, apparently. Adam and Hannah spend a majority of episode 8 reconnecting, and it's hard to not love watching them together again. 
Over the course of the series, Girls has tried to escape the "will they or won't they" conundrum of Adam and Hannah, but it seems inevitable. Seeing Adam profess his continued love for her may cause some to roll their eyes, but it's undeniably sweet. In their scenes together, it's clear they've both matured. Outside of their characters, it was nice to see Lena Dunham and Adam Driver spend most of the episode together as their chemistry is unmatched. 
It's difficult to ignore their tumultuous history, but seeing Hannah admit to Adam she's scared about raising the child was endearing. The scene in which Adam speaks to Hannah's belly and the baby is maybe the most natural Girls has ever felt. The past the two have is something they can't ignore and their comfort with each other is why they can fall back into their relationship so easily. 
As they are busy getting back into their old habits, it seems Jessa is spiraling out of control. Set to Ariana Grande's "Dangerous Woman," Jessa finds herself in a bar in the middle of the day. She's on a mission, doesn't need permission and has sex with a random bar patron. It's an uncomfortable scene to watch, but it's clear Adam reconnecting with Hannah is weighing more on Jessa than she expected. 
While all of that is happening, the show remembers Shoshanna. She and Ray are working on a project together, and Shosh is reunited with her old boss, Abigail. The two bump into each other, and we're just glad Aidy Bryant is back one more time before the series ends. 
The three go for lunch and everyone gets a little drunk. Abigail and Ray end up bonding and ultimately push Shoshanna away. In fact, the two decide to work on their own project together to help Ray's anxiety with talking to strangers. In a great little moment in the episode, they talk to people in the neighborhoods of New York. Abigail and Ray ask strangers why they love the city, what has changed and why some of them moved there. In its final season, Girls is remembering its roots, and it's more than welcome. 
By the end of episode 8, Ray and Abigail share an unexpected kiss. At the same time, Shoshanna has once again completely disappeared. At this point, we would love a spin-off explaining where she was during this time.
The episode ends with Hannah and Adam going back to their separate lives. In a moving scene, Hannah comes to the realization during dinner that Adam hasn't really changed all that much. It hits her that this child is truly her own, and she begins to cry in front of him. The two go their own ways, and Adam returns home to Jessa who is there waiting for him. While it was great to see them reconnect, it seems their relationship may be totally in the past. 
We're sure this isn't the last time Adam and Hannah will reconnect before the series finale. We're also certain Shoshanna is over it and has a more interesting life outside of these people. 
Mic has ongoing Girls coverage. Please follow our main Girls hub here.