Porn sites are stepping in to fill the hole Republicans just created in internet privacy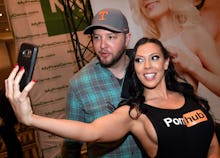 Last week, Republicans in Congress rolled back FCC privacy rules that prohibited internet service providers from collecting data on their customers' web use without explicit prior permission, potentially opening the door for ISPs to sell sensitive financial, personal and just plain weird information about the nation's web users to advertisers.
The move has outraged internet privacy advocates, but it's also angering an industry that really, really doesn't want anyone spying on its customers: pornography.
According to the Daily Beast, some sites are responding by upgrading their old HTTP-based system to HTTPS, a secure protocol that would prevent ISPs from watching what customers actually do while on a page. Fox News noted online porn giants YouPorn and Pornhub have already made the switch, but of the top 11 adult sites, only those two and RedTube default to HTTPS. 
Alec Helmy, founder of adult industry news site Xbiz, told the Daily Beast if ISPs like Comcast or Verizon are allowed to sell their customers' browsing histories to the highest bidder, customers will respond with paranoia about their browsing habits.
"It's safe to say porn users are very concerned about privacy, which is why the vast majority flock to tube sites, despite the fact that content quality on such sites is inferior to pay sites," Helmy said. "I believe repealing privacy protections will make users borderline paranoid, pushing them to secure sites over nonsecure favorites."
"If something makes my customers feel better then that's what I'm going to do," Angie Rowntree, owner of female-centric porn site Sssh.com, told the Beast.
But will their efforts to beef up security actually work? ISPs will still be able to see each individual URL visited by a customer regardless of whether HTTP or HTTPS connections are used, which could be plenty revealing in and of itself. Both porn sites and their customers have few options for true privacy. Customers essentially have to take the onus upon themselves by purchasing access to a VPN, a kind of proxy server that encrypts all traffic.