Art Briles wants to help the real victims of the Baylor rape scandal: his coaching staff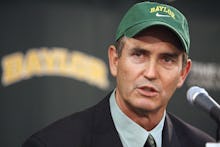 Art Briles, the former Baylor University football coach who was fired in June over his "serious shortcomings" in responding to the culture of sexual assault in the program, said Friday that he's dedicated to those affected by the scandal — the other members of his coaching staff.
"It just didn't affect me," Briles said after an Alabama coaching clinic. "It affected numerous office personnel, strength staff and all the coaches. My main focus, honestly, this year has been to make sure they can continue doing what they love doing and provide for their families. So, that's where I've been."
Baylor football players are alleged to have committed 52 rapes in four years while Briles coached the Bears. Briles — along with top university officials — was fired amid the scandal and its cover-up.
During the Birmingham Football Coaching Clinic on Friday, Briles broke months of silence to talk about how he's tried to help "those who were with me land on their feet" and how he wants to coach football for another 10 years.
"There are a lot of different opportunities, but we'll just have to see if that's what it leads to," Briles explained, saying he would like to do what he's done all his life: "coach football and be around young people and help young people."
He acknowledged during his remarks that he has "been holed up for a couple months" but did not comment directly on the sexual assault scandal that cost him his job.
He did, however, tell AL.com that he wants to "fulfill [his] blessing" moving forward.
"I've been very blessed up to this point," Briles said. "I understand that, and now to me it's all about fulfilling that blessing. So, that's really just where I'm at from a mental standpoint."
In early March, Briles released a letter denying that he had covered up the sexual assaults and that he "never knowingly played anyone with a sexual assault allegation."
"First, that anyone (Baylor student or otherwise) has been hurt, physically, sexually, emotionally, or spiritually is tragic," Briles wrote. "I would do anything in my power to try and prevent that."