Ex NC Gov. Pat McCrory agrees with LGBTQ advocates: HB2 wasn't repealed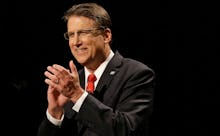 North Carolina's anti-trans bathroom bill hasn't really gone anywhere.
That's what LGBTQ advocates have been saying since state lawmakers "repealed" House Bill 2 this week — and former North Carolina Gov. Pat McCrory, who signed HB2 into law in 2016, agrees.
"The good news is this: The [Human Rights Campaign] lost the battle," McCrory reportedly said in an interview with Tony Perkins of the Family Research Council on Thursday. "With their resources and power and money, and their trying to get some other corporations to help support them in the battle. ...[The] fact of the matter is, they did not get a full repeal of HB2."
Democratic Gov. Roy Cooper signed the so-called repeal of HB2 last week and said that while it was "not a perfect deal or my preferred solution," it was a step in the right direction.
But the HRC and other civil rights organizations condemned the new legislation, with President Chad Griffin saying in a statement that North Carolina had "doubled-down on discrimination."
"This new law does not repeal HB2," Griffin said. "Instead, it institutes a statewide prohibition on equality by banning nondiscrimination protections across North Carolina and fuels the flames of anti-transgender hate."
Under the new legislation, North Carolina cities cannot pass equal rights ordinances until 2020 or pass protections for transgender people at all, leaving the door open to future bills similar to HB2.
HB2, which forced state residents to use the bathroom that matched their gender assigned at birth rather than their gender identity, hurt transgender North Carolinians and the state's economy. 
Chris Sgro, executive director of Equality NC, criticized the law as having been both enacted and repealed without consulting the state's LGBTQ community.
"HB2 was hastily passed without any input from the LGBTQ community just one year ago," Sgro said. "Today, we returned to the legislature with a deal made between Governor Cooper, Phil Berger and Tim Moore that once again left out the ones most impacted by the discriminatory law — LGBTQ North Carolinians."
"Once again, the North Carolina General Assembly has enshrined discrimination into North Carolina law."