Report: Jared Kushner appears to be siding with the lone Democrat in Trump's White House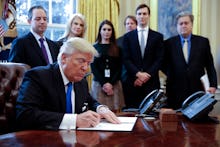 The rise of President Donald Trump has been, if nothing else, replete with promises that he was on the cusp of some kind of pivot that would reinvent him in the public imagination. Trump repeatedly promised to tone down his rhetoric; shake-ups in his campaign staff led to predictions of a "softer, gentler Trump"; he teased pivots on immigration; and most recently, the president turned up the flowery language during a joint address to Congress.
Trump 2.0 never actually came to be. His tweets have been just as hostile, his reaction to setbacks more so, and his poll numbers have slumped to the lowest in modern presidential history. But there's at least one person who still believes the public will bite at yet another Trump rehabilitation: the president's powerful son-in-law and senior adviser, Jared Kushner. According to Politico, he is trying to wrestle control of the administration from far-right Chief Strategist Steve Bannon with the help of the White House's lone powerful Democrat, senior economic adviser Gary Cohn.
One source in the White House told Politico Kushner "would like to present Trump a plan for improving the White House within weeks, around the 90-day mark." Kushner, who Trump recently put in charge of a government innovation initiative, apparently plans on aligning with Cohn to effect a "broader staff shakeup amid rising tensions" with Bannon. One key element: "fewer zealots and less ideology in the West Wing."
In other words, Kushner's plan is seemingly to push Trump away from the hard-right wing of his administration. Cohn, a former Goldman Sachs executive, may seem like an odd choice of partner in that endeavor but is nonetheless a registered Democrat and moderate compared to others like Bannon in the administration.
As the Washington Post noted, Kushner's role heading innovation and efficiency in government makes him a natural opponent of Bannon, who is more concerned with actively dismantling it.
Trump seems more amenable to the latter camp. If he's planning on moving his administration to the center, there have been few signs from the first two months, which have been defined by backlash to his policies on immigration, border security, health care and the budget.
Though prior presidents have rebounded from rocky beginnings in their terms, banking on another Trump reset is a bit of a dubious proposition for an administration largely defined so far by stubbornness.