'NBA 2K17': How to get Lonzo Ball and a realistic draft class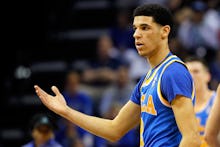 The upcoming NBA draft looks like a strong one on paper. Prospects like UCLA's Lonzo Ball, Washington's Markelle Fultz and Duke's Jayson Tatum could make an immediate impact in the NBA.
NBA 2K fans won't have access to official versions of these players until NBA 2K18 is released. However, there's a way to still play with these three potential stars and the rest of the expected draft class for the upcoming season.
How to create Lonzo Ball in NBA 2K17
Draft class creator EmbraceThePace has again created a realistic draft class with logical ratings based on the collegiate player's stats, known strengths and weaknesses.
He has also done a solid job at recreating the player likenesses. You can see an example of ETP's created Ball below.
To get this draft class, you have to be on PlayStation 4. You can download the class for use in MyGM and MyLeague either at the beginning of your season or at any time during a campaign in either of the aforementioned modes.
When prompted to download a draft class, you can search by PSN ID: EmbraceThePace if it isn't initially populated.
There are similar draft classes available on Xbox One. You can find them by doing a simple search for "NBA Draft 2017," though we can't vouch for the authenticity of those uploads.
The create-a-draft class — and most importantly the share option — are perhaps the most underrated features NBA 2K offers.
Community-sourced goodies like this one add a great deal of longevity to the game each year.
More sports gaming news and updates
Are you a sports gamer? Check out more content from Mic, including tips for leveling up your NBA 2K17 MyPlayer, playing quarterback in Madden 17, our review of MLB The Show 17 and the classic Nintendo sports games we want to see on the Switch.