NY Post hacked in April Fools' prank, sends 'Heil Trump' alerts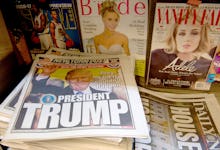 Readers of the New York Post got an unexpected message Saturday night, as the newspaper's mobile push notifications were compromised by an April Fools' Day hack.
The hack resulted in the Post sending out a string of nine bizarre alerts to users of its mobile app, beginning with the phrase "Heil President Donald Trump." The messages began around 10:45 p.m. Eastern, the New York Daily News noted.
"Hear me now, for I speak as an angel in the words of God," the news alerts continued. "In casting truth into the darkness of your shadow, you have gravely sinned... and yet, for your generosity of spirit and sharpness of mind, salvation remains within reach."
"Open your heart to those you do not understand and listen to all those you fear and look down upon," the messages implored Trump, before warning the president that "the fate of [his] soul is soon to be decided."
"With Lucid Love, Selah," the last message read.
It's not clear whether or not Trump received the hacker's messages. Axios noted in January that Trump allegedly considers the Post to be the "paper of record for him." However, Trump reportedly received the newspaper daily in print form, so he may not have the Post's app installed on his phone.
The Post apologized to its readers for the hack early Sunday morning, sending out a message on social media and through another mobile alert.
"We are working to resolve the issue. Please accept our apologies," the mobile alert read, as quoted in the Daily News.