Colombia landslide: Over 250 dead in Mocoa mudslide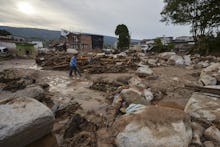 Heavy rains flooded the Colombian city of Mocoa early Saturday morning, resulting in a landslide that has left over 250 dead.
Three rivers overflowed from the unusually heavy rainfall, NBC News noted, causing an avalanche that tore through the city as residents slept. The water, along with rocks and debris swept downstream, ripped trees from their roots, swept away cars and destroyed homes throughout the region.
An army statement cited by the Guardian reported 254 people were killed in the landslide and 400 were injured. An additional 200 people remained missing, as residents searched for loved ones in the tragedy's aftermath.
"We have lost a baby, who has gone missing," a Mocoa resident told journalists, the BBC reported. "A little baby, we can't find him anywhere."
About 1,100 police officers and soldiers are currently helping with the rescue efforts, the BBC reported, along with volunteers from the Red Cross, who, NBC noted, have set up a special unit to help reunite residents with their loved ones. 
"In this moment, it's chaos," Oscar Forero, a spokesman with the Colombian Red Cross, told NBC News. "There are many people missing."
NBC reported at least 22 injured residents were airlifted to nearby hospitals, as Mocoa's small regional hospital became overwhelmed by the crisis.
Colombian president Juan Manuel Santos declared a state of emergency for the region on Saturday and flew to Mocoa to aid in the rescue efforts.
"We will do everything possible to help them," Santos said, as quoted in the Guardian. "It breaks my heart." 
Though landslides are not uncommon in Colombia, Saturday's tragedy is one of the more destructive incidents in recent memory. Nine people died in a November landslide in nearby El Tambo, the BBC reported, while a 2015 landslide in northwest Colombia cited by CNN left 80 dead. Saturday's landslide still pales in comparison to the country's deadliest landslide in 1985, the Guardian reported, which took place in the town of Armero and killed over 20,000 people.
Santos pointed to climate change as a main cause behind the heavy rainfall that led to Saturday's landslide, NBC News reported, urging authorities to "redouble their efforts" as the country's rainy season — which is just beginning — continues. 
The Colombian director of the National Disaster Risk Management Unit reported Saturday night's rainfall was a third of the total rainfall the region is expected to receive in an entire month this time of year, the BBC noted.